Major drought continues for Tiger
Updated:
June 16, 2013, 8:18 PM ET
By
Bob Harig
| ESPN.com
ARDMORE, Pa. -- There was not much positive to take from his experience at Merion, other than it's over and there's plenty of important golf on the horizon.
For Tiger Woods, the 113th U.S. Open was another lost attempt at winning a major championship, and a rather ugly one at that. The No. 1-ranked player in the world shot 74 on Sunday at Merion's East Course to finish at 13-over 293 -- his worst score in relation to par for 72 holes in any major championship he has played as a pro.
Major Disappointment
Tiger Woods' major championship drought continued at the 2013 U.S. Open, and it wasn't even close. His 13-over total is his worst score in relation to par at a major while a professional. Here's a look at how it ranks:
Year
Event
To Par
2013
U.S. Open
+13
2006
U.S. Open
+12
2003
PGA Championship
+12
2011
PGA Championship
+10
2004
U.S. Open
+10
1999
Open Championship
+10
1998
U.S. Open
+10
-- ESPN Stats & Information
In other words, save for the three times as a pro he missed a cut in a major championship, Woods never was worse than this.
His tie for 32nd was also his worst finish as a pro at the U.S. Open, save for 2006 when he missed the cut.
"There's always a lesson to be learned in every tournament whether you win or lose,'' Woods said. "I'll look back at the things I did right and the things I did wrong.''
There wasn't much right, although Woods argued the golf course had something to do with some of his struggles. But when you make 20 bogeys and a triple, there are clearly some issues.
Woods missed too many fairways and took too many putts, a simple yet realistic way to look at his week. The 21 holes he played over par are the second most ever for Woods in a PGA Tour event.
Woods needed 127 putts, the second-most ever in a major, surpassed only by the 128 he took in 2005 at the U.S. Open. Of course, he finished second to Michael Campbell that week at Pinehurst, which says something about how well he hit the ball.
That wasn't the case here, where Woods never seemed to get on track. He opened the tournament with a 73 in the weather-plagued first round, battled back to within 4 of the lead with a second-round 70, birdied the first hole on Saturday and then fell apart.
"It wasn't as sharp as I'd like,'' he said. "I just didn't quite hit the ball the correct distances most of the time. But they weren't in the correct areas that I'd like to have. I was trying to hit the ball in certain spots, give myself uphill looks on some other putts, but I didn't quite do that.''

Get all of ESPN.com's latest news, highlights and commentary about the world's most talked-about golfer. Tiger Tracker
Woods has now gone five years without winning a major championship, his last coming at the 2008 U.S. Open, the 14th of his career. He has won four times on the PGA Tour this year, and has a tie for fourth at the Masters.
He'll get another crack at a major championship next month at Muirfield, site of the Open Championship, where in 2002 -- having won the Masters and U.S. Open that year -- he shot a third-round 81 in horrific weather.
Until then, Woods is scheduled to defend his title June 27-30 at the AT&T National, and there's a chance he will play the Greenbrier Classic the first week of July, although he has yet to commit to that tournament.
U.S. OPEN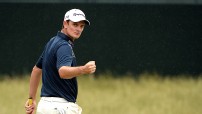 Merion proved to be quite the test for the world's best at the 113th U.S. Open. Justin Rose ultimately triumphed, finishing the tournament with a 2-stroke victory at 1-over.
DAY 4
DAY 3
DAY 2