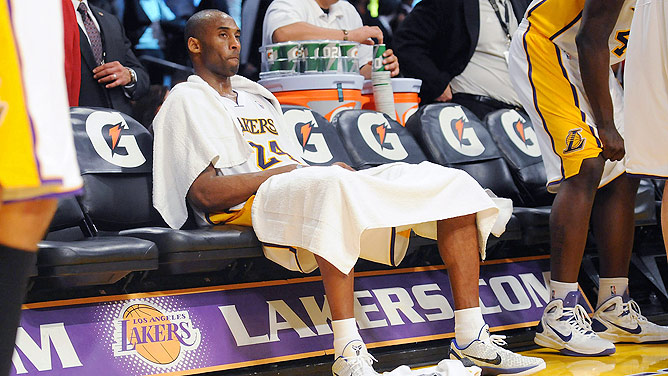 Jayne Kamin-Oncea/US Presswire
LOS ANGELES -- Kobe Bryant has been around Phil Jackson long enough that they'll both readily admit they don't learn anything new from one another anymore. There's not a tactic or technique Bryant hasn't seen Jackson use and there's not a play or maneuver Jackson hasn't seen Bryant perform.
So when Bryant stands in front of the locker after a 104-85 loss to the Memphis Grizzlies, their third loss by at least 16 points in their last four homes games, he simply shakes his head when he hears Jackson say the Lakers lose focus when they get a day off from practice and that he'll learn from that.
"We've had days off and blown teams out so I'm not buying that Zen [stuff]," Bryant said. "I think that the big issue is individually finding things that motivate you."
Jackson has traditionally given books to players during long winter road trips, hoping to help them to think about their role. Last year before the Lakers' eight-game road trip he gave Bryant, "Montana 1948," a Larry Watson novel about the struggles of a fictional Montana family.
There was nothing Jackson thought Bryant would gain from the book. He just knew he was never going to read it -- Bryant never reads Jackson's books -- so he just wanted to give him something from his hometown. While Bryant might not read Jackson's books, he's hoping whatever Jackson has in store for his teammates will work.
"I'm pretty self motivated but with the guys in talking to them it's important for them to find little challenges so they can get up every single night" Bryant said. "You have to find something that gets you going."
Bryant, who scored a game-high 28 points, tried to get the Lakers going in the third quarter, scoring 17 points and bringing them to within two points with less than 6 minutes to play in the period but the Grizzlies ended up taking a 17-point lead into the fourth quarter and led by as many as 26 points.
"[Scoring is] second nature to me. It's not something that I need to do here for us," Bryant said. "It's a bonus for us when it happens but we have to be able to carry through on the other end of the floor. You can't do the work and get it to within four and continue to give up wide-open looks to the opposition."
The Lakers have now been outscored 50 points in their last four home games primarily because of the lack of defensive intensity that forced Bryant to punch a chair on the bench, spike the basketball and eventually pick up a technical in the fourth quarter Sunday night.
The challenge now for Bryant and Jackson is finding a way to get the rest of the Lakers to care about games taking place prior to April. For his part, Bryant said he doesn't plan on talking TO the players about their problems again.
"That's the role that you guys play in this thing," Bryant said, looking at the media gathered around him inside of the empty Lakers locker room after the game. "You gotta write doom and gloom stories and I think that actually builds up a lot of tension. Most of the guys don't read them but you can feel the energy from the crowd when we go out and how concerned everybody is and I think that does add a lot of pressure."
The Lakers have certainly given the media plenty of fodder to write "doom and gloom" stories and that's just fine for Bryant right now, who seems to understand the Lakers may need to be humbled after getting content off two consecutive championships and three straight trips to the NBA Finals.
"It's a win-win for everybody," Bryant said. "It builds great tension for us and you guys sell a lot papers."
Bryant still believes the Lakers will be able to answer the challenge by the end of the season but for now he's simply getting tired of finding the answers to their current problems.
"I think we'll be fine but it's about how we address these issues and try to put a stop to it and not sweep it under the rug," Bryant said. "I think it's important to focus on it and try to get this thing corrected as opposed to playing it out and seeing what happens."
Arash Markazi is a columnist and writer for ESPNLosAngeles.com. Follow him on Twitter.