President Obama picks Spartans
Updated:
March 19, 2014, 9:56 PM ET
ESPN.com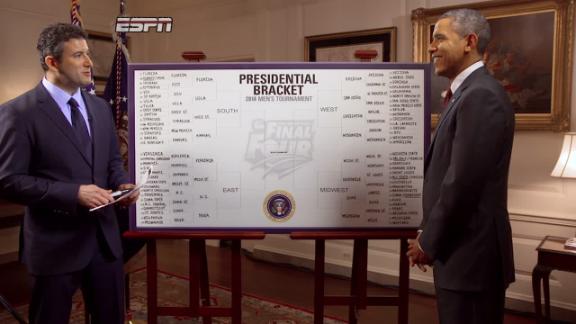 Barack-etology 2014
President Barack Obama fills out his bracket for the 2014 men's NCAA tournament.
Barack-etology 2014
NEXT VIDEO
Barack-etology 2014

Barack-etology 2014

President Barack Obama fills out his bracket for the 2014 men's NCAA tournament.

Barack-etology: The Final Four

Barack-etology: The Final Four

President Barack Obama picks Florida, Michigan State, Arizona and Louisville to go to the Final Four.
President Barack Obama, the nation's first basketball fan, again took marker to bracket with ESPN at the White House and selected Michigan State to defeat defending champion Louisville in the NCAA men's tournament title game.
The path Obama took to arrive at his national champion, an event that has come to be known as "Barack-etology," was revealed on "SportsCenter" at 9:30 a.m. ET Wednesday. It is the sixth consecutive year he has made his picks with ESPN's Andy Katz.
"Tom Izzo is a great tournament coach," Obama said. "I've got Michigan State going all the way. ... He knows how to motivate folks and he knows how to coach. My pick: Michigan State. Bring it home for me. It's been a while since I've won my pool."
More from ESPN.com

Given Michigan State's injury issues this season, the Spartans were surprised and humbled that the president has them winning it all, Chantel Jennings writes. Story
Besides the fourth-seeded Spartans and Cardinals, Obama also selected No. 1 overall seed Florida and top seed Arizona to reach the Final Four in Arlington, Texas.
"I know these are not imaginative picks, but I think they're the right ones," he said.
As of 1:30 p.m. ET Wednesday, 9.2 percent of the 6.97 million brackets entered in ESPN's Tournament Challenge had the same Final Four selections as the president, making it the most popular combination.
Among other picks of note, Obama likes two 12-seeds to pull off upsets in their openers -- Harvard over Cincinnati, and North Dakota State over Oklahoma. He also likes North Carolina to beat 3-seed Iowa State to reach the Sweet 16.
Again, he's not alone. Of those 6.97 million brackets, 30.5 percent picked Harvard, 22.3 percent picked N.D. State, and 31.2 percent had the Tar Heels advancing at least that far.
Ten Tournament Trends

ESPN Stats & Info looks at some of the historical trends of NCAA men's basketball championships, with lots of perspective on 1-seeds, seeds ripe for upsets, and much more. Blog
Obama has picked three different teams in the "Barack-etology" era to win the men's title -- Indiana (over Louisville in 2013), Kansas (over Ohio State in 2011 and Kentucky in 2010) and North Carolina (over Kentucky in 2012 and Louisville in 2009). His only correctly picked national champion was the Tar Heels in '09.
Last year, Obama's men's bracket ranked No. 2,080,996 out of 8.15 million entries in the Tournament Challenge, placing him in the 74.4th percentile.
The president correctly picked Louisville to play in the 2013 championship game, predicting a loss to Indiana for the title. In fact, the Hoosiers fell short of the Final Four and the Cardinals defeated Michigan 82-76 in what the Obama was "one of the best championship games that any of us have seen in a very, very long time."
His Michigan State-Louisville matchup this season was on 7.8 percent of all brackets through Wednesday afternoon. And 14 percent of all brackets had the Spartans cutting down the nets at AT&T Stadium.
Florida in the South Region and Arizona in the West are the only top seeds represented in the president's Final Four. The other top seeds in the tournament are undefeated Wichita State in the Midwest and Virginia in the East.
The Cardinals and Spartans finished their seasons by winning their conference tournaments.
The president is an avid fan of the college game and his hometown Chicago Bulls, and his brother-in-law is the coach at Oregon State.

MORE MEN'S COLLEGE BASKETBALL HEADLINES