Dodgers, Clayton Kershaw have deal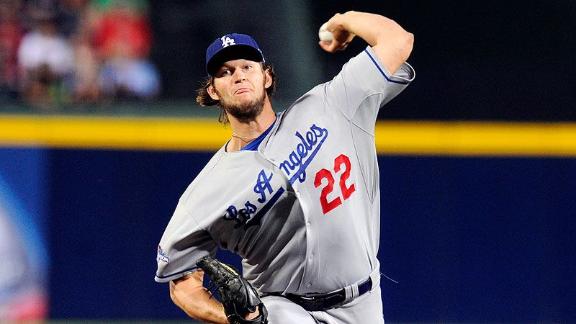 Kershaw, Dodgers Agree On 7-Year Deal
Ramona Shelburne discusses pitcher Clayton Kershaw's seven-year, $215 million deal with the Dodgers, the richest deal in MLB history for a pitcher.
Kershaw, Dodgers Agree On 7-Year Deal
The Los Angeles Dodgers and Clayton Kershaw have agreed on a seven-year, $215 million deal, according to sources with knowledge of the situation.
It is the richest deal for a pitcher in Major League Baseball history, eclipsing the seven-year, $180 million contract Detroit gave Justin Verlander last winter, and his average annual salary of $30.7 million is the highest ever for any baseball player. Kershaw will also have the opportunity to become a free agent again in five years, if he chooses.
More From ESPN.com

News of Clayton Kershaw's deal means the rest of this offseason is about joy rather than fear for Dodgers fans, Mark Saxon writes. Blog
---

Yes, $215 million is a lot of money, but Dodgers ace Clayton Kershaw is probably worth it, David Schoenfield writes. SweetSpot
• SportsNation: Smart move for L.A.?
• Stats & Info: Worthy of record deal
• Olney: Winners, losers from deal


• Szymborski: Why he's worth it


• Stats & Info: What to expect
Sources told ESPN's Buster Olney, that because Kershaw agreed to an $18 million signing bonus, with just a $4 million salary for 2014, his salary for 2014 -- for salary arbitration purposes -- is at $6.57 million (calculated as $18 million divided by 7 years and adding $4 million salary).
The 25-year-old Kershaw has won two of the last three National League Cy Young Awards, as well as a Roberto Clemente Award for his charitable work.
Kershaw and his wife, Ellen, founded an orphanage in the African nation of Zambia called Hope's Home that they visit every offseason. They co-wrote a book about their experiences last winter titled, "Arise: Live Out Your Faith and Dreams on Whatever Field You Find Yourself."
Kershaw went 16-9 with a 1.83 ERA and 232 strikeouts last season, his sixth with the Dodgers. The left-hander has a 2.60 career ERA and recorded at least 212 strikeouts in each of the past four seasons.
Kershaw had recently completed a two year, $19 million deal. He filed for arbitration on Tuesday and could have become a free agent at the end of this season if the club had elected to go through the arbitration process and signed him to a one-year deal.
The Dodgers have long intended to keep Kershaw as the face of their franchise for the rest of his career. The team had discussions with Kershaw and his representatives for more than a year before coming to an agreement Wednesday. The length of the negotiations was more about Kershaw's desire not to negotiate during the baseball season, a source said.
Highest MLB Salaries
Clayton Kershaw will make an average of $30.7 million per year thanks to his new 7-year, $215 million contract, which will be the highest average annual salary in MLB history.
Player
Salary
Clayton Kershaw, LAD ('14-20)
$30,714,286
x-Roger Clemens, NYY ('07)
$28,000,022
Alex Rodriguez, NYY ('08-17)
$27,500,000
Justin Verlander, Det ('13-19)
$25,714,286
A-Rod, Tex-NYY
('01-10)
$25,200,000
x-joined club in June, received prorated salary of $17,442,637

-- The Associated Press
The team offered Kershaw a deal in the range of $300 million this past season, a source with knowledge of the talks told Olney in October. Although Kershaw initially was uncertain about committing to such a deal, the sides were confident that a long-term contract would be completed at some point in the offseason, according to the source.
The Dodgers drafted Kershaw seventh overall in 2006, choosing the hard-throwing high-school lefthander over future Cy Young Award winners Tim Lincecum (who went 10th overall to the Giants) and Max Scherzer (who went 11th overall to the Diamondbacks), both of whom were older, more developed college pitchers.
But the Dodgers saw something special in Kershaw, and he quickly rose through their minor league system, debuting in the majors less than two years later on May 25, 2008. During his first spring training with the club, legendary Dodgers announcer Vin Scully called his devastating curveball, "Public Enemy No. 1" and he quickly began drawing comparisons to another legendary Dodger lefty, Sandy Koufax.
The two have since become friends. Koufax came into the Dodger clubhouse to congratulate him after Kershaw started and won Game 4 of the National League Division Series against the Atlanta Braves on short rest this fall.
"It's gratifying that I think of him as a friend and hopefully he thinks of me the same way," Koufax said. "He's just such a good person."
The Dodgers now have five players with an average annual value of $20 million or more. Among active contracts (or contracts signed that have not yet started), the Dodgers now have five of the 22 largest average yearly salaries in the sport on the roster -- Kershaw, Zack Greinke, Adrian Gonzalez, Carl Crawford and Matt Kemp.
Kershaw wasn't the only Dodgers player to enjoy news of the deal. Catcher A.J. Ellis took to Twitter to congratulate the team's ace.
Big winner today......me. I am blessed to catch best in the game for foreseeable future God willing. Congrats Kersh!

— AJ Ellis (@AJEllis17) January 15, 2014
ESPN.com
Senior writer for ESPN.com
Spent seven years at the Los Angeles Daily News
MLB ON ESPN.COM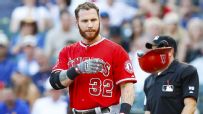 Josh Hamilton suffered a drug and alcohol relapse, according to a report.