A.J. Ellis, Dodgers agree to deal
Updated:
February 1, 2014, 12:55 PM ET
By
Mark Saxon
| ESPNLosAngeles.com
LOS ANGELES -- The Los Angeles Dodgers and catcher A.J. Ellis avoided arbitration Saturday by agreeing to a $3.55 million contract that includes incentives.
The agreement leaves closer Kenley Jansen as the only remaining Dodgers player eligible for arbitration.
Jansen seeks $5.05 million and was offered $3.5 million by the club after receiving $512,000 last year.
Ellis sought $4.6 million and was offered $3 million by the Dodgers. He made $2 million last year, his second full season as the starting catcher. The Dodgers haven't had a case go to arbitration since 2007.
Ellis batted .238 with 10 home runs and 52 RBIs and is credited for his work with a pitching staff that finished second to the Atlanta Braves with a 3.25 ERA last season.
ESPNLosAngeles.com
Mark Saxon is a staff writer for ESPNLosAngeles.com. He spent six years at the Orange County Register, and began his career at the Oakland Tribune, where he started an 11-year journey covering Major League Baseball. He has also covered colleges, including USC football and UCLA basketball.
MLB ON ESPN.COM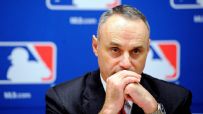 What will be MLB's top storylines of 2015?