Kenley Jansen receives $4.3 million
Updated:
February 11, 2014, 4:37 PM ET
By
Mark Saxon
| ESPNLosAngeles.com
The Los Angeles Dodgers avoided arbitration with closer Kenley Jansen by agreeing to a one-year deal worth $4.3 million on Tuesday, a source confirmed.
Jansen, 26, had sought $5.05 million while the Dodgers initially offered $3.5 million. An arbitration hearing was scheduled for Feb. 18.
Jansen was 4-3 with a 1.88 ERA and 28 saves with 111 strikeouts in 76 2/3 innings in 2013, his fourth major league season. He assumed the closer's role from struggling veteran Brandon League in May.
The Dodgers have not had a case reach arbitration since 2007.
The team will enter the 2014 season with one of the most expensive bullpens in baseball history after signing Brian Wilson, Chris Perez, J.P. Howell and Jamey Wright this winter. Dodgers relievers combined will make more than $30 million this season.
ESPNLosAngeles.com
Mark Saxon is a staff writer for ESPNLosAngeles.com. He spent six years at the Orange County Register, and began his career at the Oakland Tribune, where he started an 11-year journey covering Major League Baseball. He has also covered colleges, including USC football and UCLA basketball.
MLB ON ESPN.COM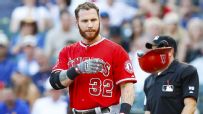 Josh Hamilton suffered a drug and alcohol relapse, according to a report.