Sandy Koufax hit in head by foul ball
Updated:
February 21, 2014, 3:02 PM ET
By
Mark Saxon
| ESPNLosAngeles.com
GLENDALE, Ariz. -- Hall of Fame pitcher Sandy Koufax was struck in the head by a foul ball as the Los Angeles Dodgers were taking batting practice at their spring training complex on Friday.
Koufax was standing in foul ground next to the bullpen, watching pitching prospect Ross Stripling throw, when Andre Ethier hit a low liner toward the area. Players yelled, "Heads up!" but before Koufax could react, the ball hit him on the left side of the head.
Koufax was smiling as he walked toward a nearby cart, though he was walking a bit wobbly. Trainers applied a bandage to his bleeding head and put a towel over it before they carted him toward the clubhouse.
Later, Koufax, dressed in a white golf shirt, entered the Dodgers' clubhouse and chatted briefly with some players. His head was not bandaged and there was a small cut near his left temple. He told reporters he was fine.
Dodgers head trainer Stan Conte then gave Koufax a lift from the team's complex.
Clayton Kershaw was seated about 20 feet from where Koufax was hit, waiting to take the field to throw live batting practice for the second time this spring.
"It didn't look good," Kershaw said. "I'm glad he walked off."
Koufax, 78, is a special assistant to Dodgers owner Mark Walter. He has spent parts of the past two spring trainings working with pitchers on an informal basis.
ESPNLosAngeles.com
Mark Saxon is a staff writer for ESPNLosAngeles.com. He spent six years at the Orange County Register, and began his career at the Oakland Tribune, where he started an 11-year journey covering Major League Baseball. He has also covered colleges, including USC football and UCLA basketball.
MLB ON ESPN.COM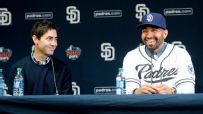 First-year GM A.J. Preller is the focal point of a stunning turn of events in San Diego.