Commentary
Angels leave Texas with little fear
Despite losing 2 of 3 to Rangers, L.A. knows there's still plenty of baseball to be played
Updated:
August 29, 2011, 1:49 AM ET
By
Mark Saxon
| ESPNLosAngeles.com
ARLINGTON, Texas -- A few days ago, dogged by reporters to discuss Los Angeles Angels manager Mike Scioscia's decision to use two of his best starting pitchers on three days' rest, Texas Rangers manager Ron Washington finally snapped.
"We're not afraid of [Ervin] Santana," Washington said. "We're not talking about Don Drysdale and Sandy Koufax. We've faced [Jered] Weaver and Santana before."
Interesting.
Washington later softened that comment, saying he wouldn't second-guess any of Scioscia's decisions. But by letting it slip, he gave us a valuable glimpse into the core of this AL West rivalry. As heated as these games have gotten in recent years, as aggressively as these teams have jostled, nobody seems to have much to fear. Familiarity has flushed the ghosts from these stadiums for both sides.
More on the Angels

For more news, notes and analysis of the Angels, check out ESPN Los Angeles' blog. »


"We're not scared of them either," Santana said, after being apprised of Washington's comment. "They're a tremendous team, but I don't give any credit to them. I just pitch to them like anyone else."
A lot of things happened this weekend, but how much really changed? Even after the Angels blew a chance to wrest the momentum of his race in their favor, the mood in their clubhouse was practically unchanged late Sunday. The Angels lost two of three games, including the capper, a come-from-ahead 9-5 loss with Weaver on the mound and a good chunk of the nation watching on ESPN. They slipped to three games back.
They looked eager to get out of the heat and off to the Northwest, but they looked far from deflated. Scioscia says he thinks his team is playing its best baseball yet this season. It had won seven of eight going into Sunday.
"They played better than us. They won the game," Scioscia said. "It's still in front of us."
The Angels scored 20 runs in three games and gave up 24. What they're hoping is that their pitching can catch up against teams that don't hit as well as Texas, but that their offense finally caught a spark that might keep things going for a while.
"I like where we're sitting as a team," said Howie Kendrick, who should since he has hit five home runs in the past six games.
After pitching his worst game of the season, Weaver (15-7) looked about as upset as a guy who'd just been seated at a table when he was hoping for a booth. He was mildly irritated, but far from in a rage. With him, it's easy to tell the difference. In Detroit, he was raging. Sunday, he simmered.
"I think we proved that we can hang with those guys in their park," Weaver said. "We just let one get away a little bit tonight."
If anything, this weekend was an opportunity squandered, not a door slamming shut. The Angels have a little information tucked away that they find reassuring. They know the last three games of the season are against the Rangers at Angel Stadium. They know they can score off this team and they know they can beat this team, though the Rangers hold a slight edge, 9-7, in the season series.
They also know they play their next 10 games against the Seattle Mariners (20 games under .500) and Minnesota Twins (21 games under .500) while Texas plays its next nine against the Tampa Bay Rays (14 games over .500) and Boston Red Sox (31 games over).
[+] Enlarge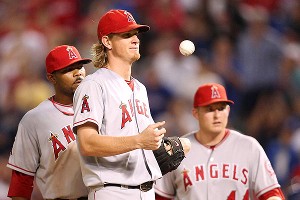 Tim Heitman/US PresswireJered Weaver seemed to tire late, but he certainly didn't sound too worried after Sunday's game.
If they lost anything this weekend, it was the swagger that goes with a six-game winning streak. That, plus many pounds of water weight as they sweated steadily, on the field, in the dugout and, most of all, in the visiting bullpen.
First-pitch temperature topped 100 degrees in each of the three games. Maybe that's why they looked so happy. They were flying to Seattle, where game-time conditions will be breezy and in the 60s.
According to Scioscia, the weekend didn't even provide strict parameters on using his best pitchers on short rest. Santana gave up four runs in seven innings Saturday and Weaver had trouble locating his fastball early, then got tired late. That could have happened on six days' rest, too. For just the second time this year, Weaver gave up more than four runs in a start.
Both pitchers said they felt perfectly normal after resting for three days instead of four.
Scioscia reserves the right to try it again in September. The fact Weaver moved through the heart of Texas' order without much resistance in the middle innings and reported no ill effects convinced him it might be worth trying again.
"We would definitely consider it if we thought it was going to give us the best opportunity," he said.
He can try it again, maybe even for those last three games against the Rangers. It might even work better next time. But it's not going to scare anybody.
Mark Saxon covers the Angels for ESPNLosAngeles.com.
ESPNLosAngeles.com
Mark Saxon is a staff writer for ESPNLosAngeles.com. He spent six years at the Orange County Register, and began his career at the Oakland Tribune, where he started an 11-year journey covering Major League Baseball. He has also covered colleges, including USC football and UCLA basketball.