Albert Pujols objects to Angels' ads
Updated:
February 23, 2012, 9:40 AM ET
By
Mark Saxon
| ESPNLosAngeles.com
TEMPE, Ariz. -- To the surprise of no one, the Los Angeles Angels have built their marketing efforts around newly acquired slugger Albert Pujols.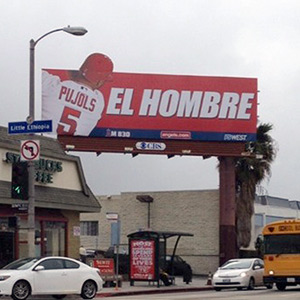 Molly Knight, Special to ESPNLosAngeles.com The Angels have 20 "El Hombre" billboards around Southern California.
But one segment of that campaign has run afoul of the player's wishes. The Angels have 20 billboards around Southern California with Pujols pictured in an Angels uniform alongside the Spanish words "El Hombre."
Pujols has asked not to be called that in deference to St. Louis Cardinals Hall of Famer Stan Musial, who was referred to as Stan "The Man" during most of his 22-year career.
The Angels said they did not consult Pujols or his agent before launching the campaign. It was planned shortly after the Angels signed the first baseman to a 10-year, $250 million contract in December.
"Like I say, I haven't talked to them, but I prefer not to use [El Hombre]," Pujols said Wednesday.
It's an emotional issue for Pujols because he became acquainted with 90-year-old Musial in his 11 seasons playing in St. Louis. In 2010, Pujols asked St. Louis media and fans not to call him "El Hombre."
"I still have the same respect for him as I had, not just for what he's done in baseball but for what he did for his country," Pujols said. "That's something you have to appreciate."
More on the Angels

For more news, notes and analysis of the Angels, check out ESPN Los Angeles' blog. »


Musial served in the Navy during World War II and has worked extensively with the United Service Organizations, as well as several other groups and charities. Last year, he was awarded the Medal of Freedom, the nation's highest civilian honor.
Angels vice president for communications Tim Mead said the signs featuring "El Hombre" represent 20 of the 70 Angels billboards in Los Angeles, Orange and Riverside counties.
"We're more aware of his feelings about that now, but I don't think his feelings are directed at our marketing campaign," Mead said. "He hasn't approached us with anything and it's been explained to him [that] it's one prong of our campaign, not its full-fledged focus."
Mark Saxon covers the Angels for ESPNLosAngeles.com. Follow him on Twitter.
ESPNLosAngeles.com
Mark Saxon is a staff writer for ESPNLosAngeles.com. He spent six years at the Orange County Register, and began his career at the Oakland Tribune, where he started an 11-year journey covering Major League Baseball. He has also covered colleges, including USC football and UCLA basketball.