Commentary
Kershaw, Lincecum an endless duel
Updated:
March 21, 2012, 12:44 PM ET
By
Jon Weisman
| Special to ESPNLosAngeles.com
Clayton Kershaw's third start of 2011 against the San Francisco Giants is largely forgotten. Having thrown 26 1/3 consecutive shutout innings against San Francisco, the young lefty hit a snag during which he allowed singles to seven Giants in an eight-batter stretch over the third and fourth innings May 18 in Los Angeles.
The first three singles came with two out in the third and led to a run. The next four led off the top of the fourth, and were followed by a walk to one Mike Fontenot and then a sacrifice fly by Aaron Rowand. As sudden as a storm, Kershaw found himself trailing 4-0.
But if the moment served to remind the world that Kershaw was human, it also seemed truly aberrational, a wayward asteroid in the Dodgers-Giants galaxy dominated by the rivalry between Kershaw and Tim Lincecum last season. For one thing, Lincecum didn't start -- Matt Cain was the beneficiary of San Francisco's unexpected offense. For another, the Giants' lead didn't hold, thanks to an out-of-nowhere rally by the Los Angeles Dodgers capped by three runs in the bottom of the eighth. The deciding pitcher of the night was not Kershaw, but Lance Cormier, who surrendered a three-run game-winning home run to Cody Ross in the ninth. It was just the Giants and the Dodgers, acting nutty again.
[+] Enlarge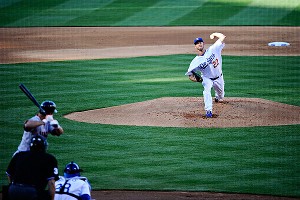 Kevork Djansezian/Getty ImagesClayton Kershaw dominated out of the gate on Opening Day.
In other words, when the stars weren't aligned to bring Kershaw and Lincecum into the same orbit last season, there was little rhyme or reason to what might happen on the ballfield. But when they were, there was no altering the gravitational pull. Lincecum would pitch magnificently; Kershaw even more so. Each and every time.
It began on a March 31 Opening Day, in the glow before the beating of Bryan Stow instantly cast a pall upon the 2011 campaign. Neither pitcher allowed a run until the sixth inning, when Matt Kemp, offering the barest hint of the do-everything season that was to come for him, walked, went to third on an infield grounder and scored on a failed pickoff throw.
In the meantime, Kershaw dominated out of the gate, striking out eight batters in the first four innings and a Dodgers Opening Day-record-tying nine overall in seven shutout innings. After the teams' bullpens traded runs, the Dodgers held on to win 2-1.
The next meeting between the two did not come until July 20, after two other Kershaw starts against the Giants (the first of which, April 11, included 6 2/3 shutout innings). On this summer's day, Lincecum allowed one run; Kershaw none. The Dodgers lefty set down 25 of 29 batters, striking out 12 in eight innings while withstanding three Dodgers errors, while Lincecum succumbed to the turpitude of letting Dioner Navarro blast a seventh-inning home run into McCovey Cove. Lincecum's ERA against Kershaw to this point was 0.64, and he was 0-2.
Sept. 9 brought the pair together for a third time in 2011 on the anniversary of Sandy Koufax's perfect game over a one-hitting Bob Hendley, as likely an opportunity for history repeating itself as you'll find. Once again, Kershaw found as much of an opponent in his own defense as he did in the Giants' offense. He allowed three hits -- two of them infield hits that could have been ruled otherwise. He also allowed one unearned run, a first-inning gift that was nearly all Lincecum needed.
But with the Dodgers still trailing 1-0 in the top of the eighth, Kemp reached first on a full-swing 40-foot infield single and stole second. With Juan Rivera up, Lincecum, throwing his 122nd pitch, gave up an RBI hit that tied the game.
More From ESPNLosAngeles.com

For more news, notes and analysis of the Dodgers, check out ESPN LA's Dodgers Report. Blog
Then in the ninth the Dodgers nickeled and dimed reliever
Santiago Casilla
, with
Jamey Carroll
, batting for Kershaw, hitting a grounder to second base that scored heroic pinch-runner
Eugenio Velez
with the winning run.
Eleven days later, Lincecum and Kershaw met for a fourth and final time in 2011. The stakes: Kershaw's 20th victory, Lincecum's sanity. The crowd, bucking the grimmest Dodger Stadium season in a generation, was at its most fervent pitch of the year. In the first three Kershaw-Lincecum showdowns, the Dodgers hadn't scored before the sixth inning. But this time, Kershaw was staked to runs in each of the first two innings, including a Jerry Sands solo shot in the second, leaving the future Cy Young winner in charge of his own destiny.
Over the first seven innings, Kershaw allowed only one Giant to reach as far as third base, placing him within two innings of crowning glory. However, with one out in the eighth, against the 158th San Francisco batter he faced all season, he gave up his only home run, to catcher Chris Stewart, pulling the Giants to within one. Kershaw walked the next two batters, and suddenly it appeared that Lincecum might have the last laugh.
Instead, Kenley Jansen struck out Pablo Sandoval and Carlos Beltran on seven pitches, and Javy Guerra finished things off in the ninth, sealing the 2-1 victory for the Dodgers and sending the ace-on-ace rivalry into Dodgers folklore forever.
In four 2011 starts against Kershaw, Lincecum pitched 29 innings and allowed 24 hits and 12 walks while striking out 23, with a 1.24 ERA. And it wasn't enough, not nearly.
Kershaw pitched 30 1/3 innings in those four games, allowed 16 hits and five walks while striking out 36, with a 0.30 ERA, the Stewart home run the only thing between him and run-prevention perfection.
Lincecum pitched so well it's almost silly to suggest he was anything less than optimum. It was his sensational stuff that lifted Kershaw's achievement from exciting to epic.
Was it a passing of the torch? The new ESPN the Magazine has Lincecum noogie-ing Kershaw down from the stratosphere. But because the Giants and Dodgers don't face each other until May 7, after several off days between then, we have no idea when in 2012 Kershaw and Lincecum will get their rematch on, if at all.
The heavens willing, the two will face off against each other many more times, each one filled with seat-edge suspense, regardless of what proceeded.
ESPNLosAngeles.com
Jon Weisman is the author of
Dodger Thoughts
and a TV editor and writer for Variety.