Our experts from ESPNLA.com and the Miami Heat Index will match wits each week in anticipation of the Lakers-Heat showdown, Dec. 25.
---
HEAT VS. LAKERS

Dec. 25 @ 2 PM PT on ABC
70
DAYS
:
08
HRS
:
58
MINS
:
48
SECS
---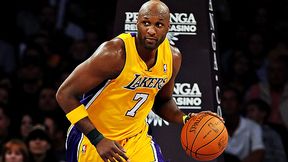 What is the biggest surprise about the Lakers in the early going?

By Brian Kamenetzky
ESPNLosAngeles.com
Land O' Lakers blog

Can't say I predicted Lamar Odom would be a walking triple-double threat, but that's a continuation of his strong play in the preseason.
Pau Gasol has been outstanding, but he's arguably the best power forward in the NBA.
The closest thing to a surprise is the Lakers have been able to limit Kobe's minutes as they had hoped. On opening night, he logged about 37, not a walk in the park but fewer than you'd expect in a game decided in the final seconds. Against Phoenix he didn't crack 34 minutes, and was on the bench for good Sunday against Golden State without playing 30.
Overall, as a team, the Lakers seem very calm, very controlled, very much like a group understanding the goal is to build over 82 games.

By Andy Kamenetzky
ESPNLosAngeles.com
Land O' Lakers blog

To me, the biggest surprise is how everything you could have wanted out of four games has come to fruition.
Kobe Bryant steadily rounding into form while logging reasonable minutes? Check. Pau Gasol taking the onus to pick up the slack for a recovering Kobe and a shelved Andrew Bynum? Check. Lamar Odom and Shannon Brown retaining their preseason momentum? Check. New guys Steve Blake and Matt Barnes fitting in? Check. Undefeated? Check.

By Dave McMenamin
ESPNLosAngeles.com
Archive

I'm surprised to see Derek Fisher is averaging 9 points, 2.3 rebounds and 1.7 assists while shooting 45.5 percent from the field in 26 minutes per game.
Steve Blake is averaging only 6 points, 1.3 rebounds and 2.3 assists on 31.3 percent shooting in 18.7 minutes per game.
After the season opener against Houston, when Fisher sat the entire fourth quarter with Blake on the floor, fans started to speculate that the free-agent pickup would be pushing the captain out the door.
But that hasn't been the case so far.

By Ramona Shelburne
ESPNLosAngeles.com
Archive

The Lakers' bench has been the surprise of the early season.
I figured the Lakers' bench was going to be better than last season; of course that's like saying Krispy Kreme doughnuts are just a little bit better when they're hot. Simply putting Jordan Farmar on a plane and replacing him with someone who wanted to be here was an upgrade.
But I don't think anyone realized how fast Steve Blake would pick up the triangle offense, how much Matt Barnes' hustle plays would affect the energy in the building and how much Shannon Brown would be able to develop his all-around game in the offseason.

By Arash Markazi
ESPNLosAngeles.com
Archive

Everyone knew the signings of Matt Barnes, Steve Blake and Theo Ratliff were perfect fits for the Lakers, but I don't think anyone thought their revamped bench players with their revamped nickname ("The Renegades") would be this good, this early into their first season in Phil Jackson's triangle offense.
The trio of veterans along with rookies Derrick Caracter and Devin Ebanks has given the Lakers their deepest team in recent memory and has turned an Achilles' heel for the back-to-back champions into a big strength.
Not only are the Lakers 12-deep right now, but they will only get deeper when Andrew Bynum returns to the starting lineup, moving Lamar Odom back to his role as the team's sixth man.
THIS WEEK'S MUST READ:
Why Matt Barnes Is Fitting In

By Brian Kamenetzky
ESPNLosAngeles.com
Archive

Bringing in Barnes was a move completely without downside for the Lakers. He added badly needed depth at small forward, one of the only structural weak points on the roster. Practically speaking, the Lakers functioned last season with Kobe Bryant as the backup 3. Given his rather weighty responsibilities, that ain't a good idea. That said, I wasn't exactly sure how the Lakers would use Barnes on a very crowded roster, particularly once Andrew Bynum becomes available, adding another (more or less) 30-minute player to the rotation. I still don't really know. Neither does he. "It's kind of been up and down a little bit, because sometimes I come in the first [quarter], sometimes I come in the second," Barnes said after Sunday's win. Nor has he been given a blueprint for what might come down the road. Land O' Lakers blog »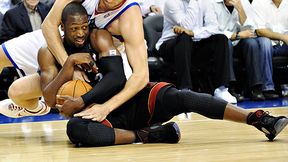 What is the biggest surprise about the Heat in the early going?

By Kevin Arnovitz
ESPN.com
Archive

We knew that the Heat's perimeter defense would be stifling with LeBron James and Dwyane Wade situated on the wings -- but this dominating?
In the early going, the Heat are running away atop the league's defensive efficiency rankings. With a cupcake schedule over the next few weeks, it's conceivable that the Heat will maintain, or even improve upon, their gaudy 87.9/100 possessions average.

By Brian Windhorst
ESPN.com
Archive

Many teams making training camp promises about defense and historically Erik Spoelstra makes it a top priority. But it has still been remarkable how dominant Miami has been on the defensive end.
Especially with a giant weak spot, which is its post defense. The Heat have been able to not just overcome it but show signs that they could end up being the most efficient defensive team in the league. With so many new players, it is a surprise it happened so quick.

By Michael Wallace
ESPN.com
Archive

The biggest surprise for the Heat has been the degree of defensive dominance they have displayed so far this season.
With LeBron James and Dwyane Wade having been perennial members of the NBA's All-Defensive teams the past few years, the Heat were expected to be a solid perimeter defending team. But to hold their first five opponents to 420 points was beyond expectation.
That stretch included two games when the opposing teams' starting forwards were held without a field goal, something that hasn't happened since the ABA-NBA merger.
From the opposite perspective, 25 turnovers by James through his first four games have also been a bit of a surprise as he works out kinks with his new teammates.

By Tom Haberstroh
ESPN.com
Archive

We knew the defense was going to be good but it's looking all-time great thus far. Through Tuesday night's dismantling of the Minnesota Timberwolves, the Heat had allowed just 87.9 points per 100 possessions, which leads the NBA in defensive efficiency. Given the cake schedule over the next week or so, there's a chance we may see our first-ever NBA shutout.
But seriously, who predicted the Heat to be the best basket-protecting team in the NBA? Wasn't that supposed to be a fatal flaw? Right now, opponents are shooting just 50 percent on layups and dunks according to Hoopdata.com which, again, is best in the league.
The weakside rotations on pick-and-rolls have been absolutely textbook. While the Heat's athleticism was supposed to shine in transition, their help-and-recover quickness has been beyond belief.
THIS WEEK'S MUST READ:
How Great Can Heat And Lakers Be?

By John Hollinger
ESPN.com
Archive

Nobody was saying before the season that the Hawks or the Hornets might win 72 games. That's because they won't. And although L.A.'s goose egg in the loss column keeps it ahead of Miami in the standings at the moment, we've already seen what this outfit can do. Win the championship? Perhaps. Win 72? Not bloody likely.
Miami, on the other hand, conjures up a wide range of possibilities, precisely because we haven't seen the limits on what the James-Wade-Bosh partnership can accomplish. We've been wondering all summer if this will be one of the greatest teams of all time or just another nice team. After five games, we're wondering a lot about the former and not so much about the latter. That in itself is a minor accomplishment.
To rank with the all-time greats, obviously, this season's Heat would need to win the championship. But that won't be nearly enough; it's just the minimum threshold. Here are some of the regular-season standards the Heat would need to threaten or exceed, and how they're faring relative to those mile-high standards. Per Diem

---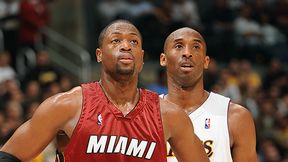 COLLISION COURSE: Week One:
Who has the best chance to win the title?