Klay Thompson calls out Blake Griffin
Updated:
April 17, 2014, 2:23 PM ET
By
Arash Markazi
| ESPNLosAngeles.com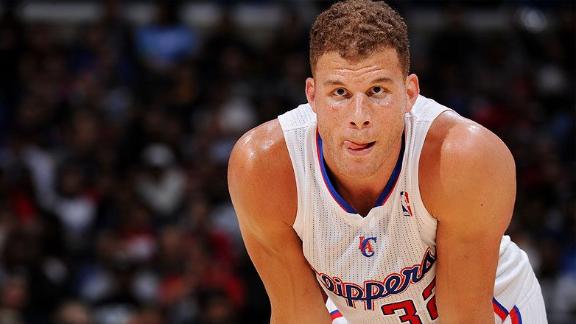 Has Griffin Proven His Toughness?
Stephen A. Smith and Skip Bayless discuss Blake Griffin leading the league in technical fouls and if Griffin has proven his toughness.
Has Griffin Proven His Toughness?
PORTLAND, Ore. -- The trash talking between the Los Angeles Clippers and Golden State Warriors has started -- even before their first-round playoff series became official late Wednesday night.
Earlier in the day, Warriors guard Klay Thompson called Clippers forward Blake Griffin out for flopping and playing "kind of out of control sometimes."
"He is a good guy off the court but he probably just ... I mean ... plays pretty physical and flops a little bit," Thompson told The Wheelhouse on 95.7 The Game radio in San Francisco.
"He flairs his arm around so you know you might catch a random elbow or something that doesn't you know rub off too well on guys," Thompson said. "He's kind of like a bull in a china shop, kind of out of control sometimes. And then you do just see him flop sometimes like how can a guy that big and strong flop that much.
"I can see how that gets under people's skin and be frustrating to play against."
The bad blood between the Clippers and Warriors has been brewing over the past two seasons. The teams will open the postseason against each other on Saturday at Staples Center.
Griffin was suspended for the game at Portland for receiving his 16th technical foul of the season on Tuesday night in a win over the Denver Nuggets. Clippers coach Doc Rivers said after the game, before the suspension was made official Wednesday, that Griffin would sit out for rest and wouldn't be traveling with the team regardless of whether the suspension was upheld by the NBA.
Griffin was ejected from a Christmas Day game between the Clippers and Warriors after an altercation with Warriors center Andrew Bogut and called the Warriors out after the game for playing "cowardly basketball."
"If you look at it, I didn't do anything, and I got thrown out of the game," Griffin said. "It all boils down to they (the referees) fell for it. To me, that's cowardly. That's cowardly basketball... Instead of just playing straight up and playing a game, it got into something more than that, and it's unfortunate because you want to play a team head-to-head. You don't want to start playing other games and playing cowardly basketball."
ESPNLosAngeles.com
Former columnist and writer after five years with Sports Illustrated
Markazi has also written for Slam, King, Vibe and Playboy
On board of directors for Jim Murray Memorial Foundation.