Commentary
Kobe Bryant should focus on the NBA
LOS ANGELES -- Kobe in Italy. A thought so romantic it rhymes.
It's a chance for the Los Angeles Lakers' superstar to retrace the trail blazed by his father some 25 years ago, going from the States to the Boot. It's an opportunity for Kobe Bryant to recoup the portion of the $25.2 million that he stands to lose next season if the NBA lockout causes the league to miss games. It's a reminder of just how far he's come, from a nameless American kid just trying to pick up the Italian language as a boy to a man who will have thousands of Italian fans chanting his name.
And there may very well be a time and a place for Bryant and the rest of the NBA's brightest talents to pursue alternative venues to play should the lockout creep past Nov. 1 and start to wipe out the 2011-12 NBA season. But now is not that time.
We're nearing the eleventh hour in NBA labor negotiations, with both the players' union and the owners' group circling the wagons and inviting all pertinent parties to New York this weekend for what could be the most important collective bargaining agreement negotiations yet. If a deal isn't reached in the next week or so, the start of the regular season will surely be missed. And once the pressure to start the season on time passes, progress in the negotiations could very well grind to a halt.
It won't just be David Stern and Adam Silver versus Billy Hunter and Derek Fisher this weekend. Jeanie Buss flew to the Big Apple on Thursday to represent the Lakers. Big-name players such as LeBron James and Carmelo Anthony are in attendance as well.
[+] Enlarge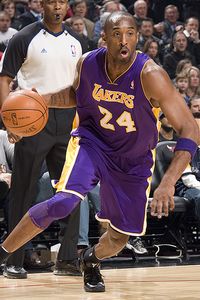 Andrew D. Bernstein/NBAE/Getty ImagesItaly occupies a special place in Bryant's heart, but his real work is in L.A.
ESPN The Magazine's Ric Bucher reported that Bryant is not returning to the U.S. from his Nike-sponsored European tour until Saturday, at which point he'll head to New York, if Friday's meeting leads to the sides agreeing to hammer out a deal through the weekend.
Get a deal done, save the NBA season. That's all that should matter at this point.
Bryant, with All-Star appearances, scoring records and contract dollars galore on his career résumé, admits he's driven by one thing after 15 years in the league -- the desire to add to his championship ring collection.
The NBA, not Italy, is the only outlet that can truly satisfy him. It's the only place where he can revel in the daily challenge of playing against the best players in the world, while simultaneously chasing the legacies of the all-time greats that have long since retired.
The Virtus Bologna deal appears somewhat dubious, with terms and conditions shifting repeatedly, from $6.7 to $5 to $15 to $2.5 to $3.2 million. And let's not forget that the initial appeal to Bryant came via a message left on the wall of his Facebook fan page. But this isn't about Italy. It's about how wrong it would be for Bryant not to have an opportunity to play in the NBA next season. It's about how basketball lore could be forever robbed of the opportunity to witness Bryant's last best shot at tying Michael Jordan's six rings if this lockout somehow isn't lifted.
I'm not blaming Bryant for listening to the offers that have come in from Turkey and China and now Italy. I'm not even blaming him for saying that it was "very possible" that he could be playing in Italy next season, either.
But I can blame him for having his priorities out of whack. And focusing on Italy, now, at a critical juncture in NBA lockout negotiations, is out of whack. There's no doubt in my mind that Bryant keeps in constant contact with Fisher and knows all the ins and the outs of the CBA sticking points as well as he would have if he had been in the room for all of the bargaining sessions so far. It's time for the self-professed NBA geek to show just how much he loves the league. It's time for him to become a face for the cause to show just how important it is that this thing gets figured out.
It's time to save the NBA season above all else.
Dave McMenamin covers the Lakers for ESPNLosAngeles.com.
ESPN.com
Cavs and NBA writer for ESPN.com
Covered the Lakers and NBA for ESPNLosAngeles.com from 2009-14 and the NBA for NBA.com from 2005-09
Syracuse University graduate