Commentary
Clippers look to speed the process
Now that they're in the playoffs, these young players hope to do some damage
Updated:
April 17, 2012, 3:43 AM ET
By
Arash Markazi
| ESPNLosAngeles.com
LOS ANGELES -- For the past four months, Los Angeles Clippers coach Vinny Del Negro has continually talked about the process. How you can't cheat the process. How you can't sidestep the process. How you can't skip ahead of the process.
The "process" Del Negro speaks of is the time needed for a team to jell and become a championship contender. If the expectation for the Clippers is to do more than simply qualify for the playoffs, which they did Monday night, they will have to do their best to cheat, sidestep and skip ahead of the process next month.
Before the Clippers even took the court for their game against the Oklahoma City Thunder, they found out they had clinched their first playoff berth in six years -- because the Houston Rockets lost to the Denver Nuggets -- and only their fifth berth since they were the Buffalo Braves in 1976. This is, however, perhaps the first time in franchise history the Clippers aren't happy with simply making the playoffs. Their expectations are much loftier than that now.
[+] Enlarge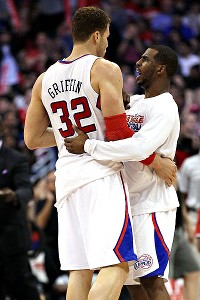 Stephen Dunn/Getty ImagesBlake Griffin, left, and Chris Paul are two major reasons the Clippers will be playing playoff basketball soon.
For the Clippers to advance past the first round for only the third time in franchise history, they are going to have to beat teams like the Thunder not just once or twice but four times in a seven-game series. After Monday night's 92-77 win over the Thunder to take the season series 3-1, the Clippers showed they are well on their way to becoming a contender and skipping a few steps ahead of that "process" Del Negro speaks of.
This is uncharted territory for players Blake Griffin, DeAndre Jordan, Randy Foye and Eric Bledsoe. They have never been in the playoffs or even a playoff chase this late in the season. Even Chris Paul has advanced past the first round only once before being eliminated in the second round.
"The playoffs are a whole different level," said Del Negro, who has never advanced past the first round as a head coach. "It will be different for some of the guys that haven't been through it. Guys think they're ready, but they're not. It will be a different level. It will be a different intensity, and when you're in a series and teams take away certain things, your weaknesses show more. It really helps the development of your game when you get to that level. We're going to have to handle that."
That development during the playoffs goes back to the process Del Negro constantly refers to. That process doesn't so much take place during the season, but in the postseason, when a team truly finds out whether it is a contender.
No team knows that better than the Thunder. If the Clippers advance as the No. 4 seed and the Thunder advance as the No. 1 seed, the two teams will play each other in the second round. Just a year ago, Clippers general manager Neil Olshey was slowly trying to build the Clippers in the mold of the Thunder with Griffin and Eric Gordon serving as their version of Kevin Durant and Russell Westbrook, cornerstones around which to build a contender. Four months ago, the Paul trade changed everything, and suddenly that old four-year plan is now a four-month work-in-progress.
As he leaned against the wall outside the visitors locker room at Staples Center, Thunder coach Scott Brooks said it's certainly possible to fast-forward the process. The Boston Celtics did it in 2008, but the biggest difference was that team brought in two veterans and had a full offseason and training camp to incorporate a system. The Clippers were put together in December and have changed personnel on almost a monthly basis, and Del Negro probably could count the number of full practices he has had this season on two hands.
While Del Negro is still trying to learn the personalities of players such as Paul, Caron Butler, Kenyon Martin, Nick Young and even Chauncey Billups, who was lost for the season in February and now serves as an extension of the coaching staff at home games, Brooks has seen his core grow up over the past four years.
"It's always been a process," Brooks said. "Four years ago we focused about not skipping steps, building good habits, and there were a lot of tough times. We've had some very tough times behind us; hopefully those experiences helped us going forward. I told our guys four years ago, if we practice hard every day, we're going to be successful; I don't know when, but just stay together and good things are going to happen."
Good things have happened to the Thunder. Oklahoma City holds the best record in the West and has been the favorite to represent the conference in the NBA Finals since the end of last season. The Thunder, however, will likely be cheering hard for whoever plays the Clippers in the first round after not only losing three out of four games but losing their two games in Los Angeles by an average margin of 13.5 points.
More on the Clippers

For more news, notes and analysis of the L.A. Clippers, check out the Clippers Report. Blog
"Matchups have a lot to do with this league," Del Negro said. "I thought initially they were more physical early on, they had a lot of steals in the first half and the refs were letting us play a little bit, but as the game went on, we got more comfortable with the physicality of the game and we made some shots. The guys are playing with confidence now, and we have to keep it going."
Thunder center Kendrick Perkins, who was a starter on the 2008 Celtics team that went from the lottery to a championship after the additions of Kevin Garnett and Ray Allen, said role players that season such as himself, Rajon Rondo and James Posey were just as much of a factor in the team's success as the Big Three of Garnett, Allen and Paul Pierce.
"You have to have a nice core of role players who can do their job to the max and not worrying about anything else," Perkins said. "The team that makes the most sacrifices is going to win. Each individual has to make that sacrifice. That's how it was when we won the championship in Boston. It's hard to say if they can do that consistently."
On Monday night, the Clippers' role players off the bench proved to be the difference in the game as Young finished with 19 points, hitting three 3-pointers; Mo Williams added 11 points; and Martin and Bledsoe combined for six points and 14 rebounds.
"This didn't happen overnight," Griffin said. "It took time. We started off well and we played well off our talents but now we're playing well because we're a team and we're playing well together. Things are starting to jell now, but we still have a lot of work to do."
After Monday night's dominating win over the Thunder, it's clear the Clippers at least have all the pieces in place to make a long playoff run. They just need to figure out a way to cheat, sidestep and skip ahead of the process other teams in front of them in the West have gone through over the past four years. The first step was getting in the playoffs; the next step is doing something now that they're in there.
"We can't be satisfied, we've got to be hungry, we've got to want more," Paul said. "We just have to continue to win games and peak at the right time going into the playoffs. We control our own destiny. We have so many guys in our team that have never been in the playoffs. This is a great feeling. We can be happy about it tonight, but we have to get back to work tomorrow."
ESPNLosAngeles.com
Former columnist and writer after five years with Sports Illustrated
Markazi has also written for Slam, King, Vibe and Playboy
On board of directors for Jim Murray Memorial Foundation.