Dwight Howard OK to re-up for Lakers
Updated:
July 19, 2012, 10:15 AM ET
ESPN.com news services
Magic center Dwight Howard signaled that if he is traded to the Los Angeles Lakers, he would be prepared to sign a long-term extension after the 2012-13 NBA season, the basketball website RealGM.com reported Wednesday.
Two sources confirmed to ESPN The Magazine's Chris Broussard that Howard is willing to re-sign long term with the Lakers if Orlando trades him there. Until recently, Howard had been steadfast in his desire to commit only to the Brooklyn Nets long term.
The Lakers have not been notified of any change in Howard's thinking as of late Wednesday night, a league source told ESPNLosAngeles.com's Ramona Shelburne, but had always figured he would commit to staying with the franchise once he experienced being part of a championship culture.
As ESPNLosAngeles.com reported Tuesday night, the Lakers have been willing to make a trade for Howard even without assurances he would sign an extension.
Sources also told Broussard the Lakers are ready and eager to trade for Howard -- with a package built around Andrew Bynum -- but that Orlando is holding up the deal.
The Magic, while willing to trade Howard, are not in a rush, and are prepared to wait until they get a deal they like.
The Lakers remained dogged in their pursuit of Howard late into the night Wednesday and plan to continue discussions Thursday, a league source told ESPNLosAngeles.com, but the longer the process drags on, the more it complicates their other offseason business, and might force them to consider moving on.
Lakers' Center Thievery

The Lakers are known for having great big men. George Mikan was homegrown, but he's the exception. Shaquille O'Neal came as a free agent from the Magic, Kareem Abdul-Jabbar was traded from the Bucks, and Wilt Chamberlain was dealt from the 76ers. Could Dwight Howard be next?
Year
Player
All-Star Apps.*
Age*
1996
Shaquille O'Neal
4
24
1975
Kareem Abdul-Jabbar
6
28
1968
Wilt Chamberlain
9
32
*- Upon joining Lakers
powered by

One potential holdup is Bynum's unwillingness to sign a long-term extension in Orlando. Although Bynum has not completely ruled out playing with the Magic, sources said, he will not sign an extension with them, and instead will wait until after the season to potentially test the free-agent market.
The Lakers have talked with Cleveland and Houston, both of whom have interest in Bynum, about being a third team to help facilitate the trade. Both clubs have the draft picks Orlando wants in any deal.
The Magic also want to rid themselves of some of their more onerous contracts, like those of Hedo Turkoglu and Jason Richardson.
If a Howard trade isn't feasible, the Lakers will turn their attention to resuming extension talks with Bynum and re-signing forward Jordan Hill. If Bynum agrees to an extension, it would start the clock on a deal for Howard in much the same way Brooklyn's extension with Brook Lopez did earlier this month.
Information from ESPN The Magazine's Chris Broussard and ESPNLosAngeles.com's Ramona Shelburne and Dave McMenamin contributed to this report.
2012 NBA Offseason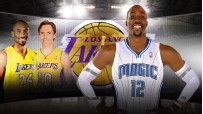 Follow the NBA on ESPN:
Twitter / Facebook / Google+
LATEST CONTENT
ANALYSIS
REGULAR FEATURES