Phil Jackson 'stunned,' source says
Phil Jackson was prepared to return to the Los Angeles Lakers on Monday morning if negotiations between his agent and the team went well, a league source told ESPNLosAngeles.com late Sunday night.
When the Lakers called to tell Jackson that they had instead chosen Mike D'Antoni to be their next head coach, he was "stunned," according to the source, because he had been under the impression "it was his job to turn down," although no formal offer had ever been made.
Jackson's triangle offense was seen as a benefit to Kobe Bryant and Pau Gasol but not as conducive to the rest of the players on the roster -- namely point guard Steve Nash and center Dwight Howard.
Another strike against the triangle was that this Lakers team struggled mightily picking up the similarly complicated Princeton-style offense being instituted by former coach Mike Brown, who was fired Friday.
Lakers spokesman John Black said team owner Jerry Buss, executive vice president Jim Buss and general manager Mitch Kupchak were "unanimous that D'Antoni was the best coach for the team at this time."
They apparently reached that unanimous decision very quickly late Sunday night, as negotiations with D'Antoni did not begin until after the Lakers' win over the Sacramento Kings, sources said.
Before that, fans had been chanting for Jackson's return, and there had been quiet optimism among Laker insiders that it was just a matter of time before Jackson was back on the sideline.
Jackson's agent was even scheduled to fly to Los Angeles on Monday to begin negotiating a deal, a source said.
Jackson and the Lakers had never spoken about a salary, the source said, "but he knew coaches don't make what he used to make anymore." He also never intended to miss any more road games than he had in his previous stints with the Lakers.
"Phil would come back only to win, and skipping games doesn't lead to winning," the source said.
However, Jackson had wanted more say over basketball decisions, another source said.
The Los Angeles Times reported that Jackson also was seeking an ownership stake, according to a person familiar with the situation.
In the end, the Lakers felt D'Antoni gave them a better chance to win this season.
Lakers Hire Mike D'Antoni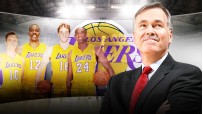 Follow the NBA on ESPN:
Twitter / Facebook / Google+
LATEST CONTENT