John Hollinger broke down each player on the Lakers' roster. Now our 5-on-5 crew weighs in on what lies ahead in Los Angeles in 2011-12.
1. For which Lakers player is the 2011-12 season most important?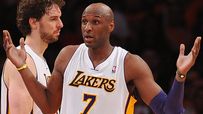 J.A. Adande, ESPN.com: Lamar Odom. He and Andrew Bynum both have team options on their contracts in 2012, but Bynum is (A) a 7-footer and (B) a favorite of freshly empowered Jim Buss, son of the Lakers' owner. If the Lakers can win another championship, it makes it harder for them to let Odom go.
Andy Kamenetzky, ESPN LA: Bynum. It's put up or shut up time for a guy who wants a larger role but hasn't proved himself physically or mentally capable of increased responsibilities over a full season. The Lakers need to figure out if Bynum is worth a long-term commitment under Mike Brown. Otherwise, the clock is ticking to flip their best trade chip.
Brian Kamenetzky, ESPN LA: You can point to Odom or Bynum, either of whom could be playing his last season in L.A., or Pau Gasol, who badly needs redemption after last season's playoff failure. But in the end, it's Kobe Bryant. His championship window is closing, and futuristic therapies notwithstanding, those knees aren't getting younger.
Dave McMenamin, ESPN LA: Surprisingly enough, I won't go with Kobe, who is the Lakers' most important employee in just about every aspect, or Gasol, who will spend the entire season trying to wipe lingering egg remnants off his face from his poor playoff performance. I'm going to say Bynum. The Lakers have a $16.5 million decision to make on him in 2012-13. Bynum's health and productivity in Mike Brown's new system will be heavily scrutinized by Mitch Kupchak, Jim Buss & Co.
Darius Soriano, Forum Blue And Gold: Kobe is the logical answer with his closing championship window and aging legs, but I'd give the edge to Gasol. Because while Kobe's Hall of Fame legacy is set, Gasol's postseason regression means for the second time in his Lakers tenure he's in the unenviable position of having to prove his championship mettle.
---
2. Who is the most intriguing player on the Lakers' roster?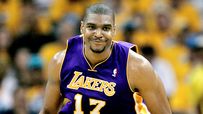 J.A. Adande, ESPN.com: If by "most intriguing" you mean most likely to go on a Twitter rant, most likely to spin the turntables at a pregame tailgate or most likely to change his name in an effort to promote global harmony, the choice has to be Metta World Peace.
Andy Kamenetzky, ESPN LA: With unrestricted free agent Shannon Brown presumably gone, Devin Ebanks is the most athletic player on a team lacking athletes and youth beyond Bynum. In sporadic minutes last season, the potential was evident. However, Ebanks is also quite raw and this is a veteran team built to win now. In theory, Ebanks provides unique utility, but is he ready?
Brian Kamenetzky, ESPN LA: Bynum. He's developed an edge (J.J. Barea agrees) and wants a bigger role, but Kobe says the pecking order (Kobe 1, Gasol 2, Bynum 3) still holds. With a team option in 2012, Bynum is at a true crossroads in his Lakers career. Will he ultimately "fall in line," as Kobe suggested after last season? What happens if he doesn't?
Dave McMenamin, ESPN LA: Matt Barnes. He suffered what he called the first major injury of his career last season when he tore the lateral meniscus in his right knee. It prevented him from getting the chance to make a real impact on the team in his first year in L.A. after signing on as a free agent. He used the extended offseason to get healthy and could end up starting if the Lakers use the amnesty provision on Metta World Peace.
Darius Soriano, Forum Blue And Gold: Bynum, by a long shot. Now is his time to take a larger role on this team, but carrying a heavier load will have to be balanced with fitting in next to his other All-Star mates. How he manages to raise his game while still taking a backseat to others will be fascinating to watch.
---
3. What's the most surprising take in Hollinger's Lakers profiles?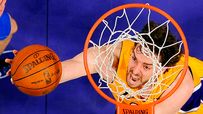 J.A. Adande, ESPN.com: That Gasol had the highest player efficiency rating of his career last season. Sure, he played MVP-caliber ball in November, but everything after that was such a letdown, especially the playoffs. This is a case of numerical deception, because no one would call 2010-11 Gasol's best season in L.A.
Andy Kamenetzky, ESPN LA: The Lakers' allowing 4.58 points more per 100 possessions with Bryant on the court (according to 82games.com) was eye-opening, even as someone who's harped on Kobe's tendency to turn C-listers into scoring machines via indifference. I realize Kobe also paces himself in part to preserve his body, but bottom line, you can only preach defense so much without playing it consistently.
Brian Kamenetzky, ESPN LA: That he included Theo Ratliff. I kid. The numbers on Kobe's defense were surprising, but the "Fluke Rule" stats on Odom are sobering. I expected a drop-off this season, but didn't realize how strongly the odds favor it. Plus, in what condition will Odom, notorious for using camp to work himself into shape, arrive?
Dave McMenamin, ESPN LA: We've covered Kobe ad nauseum over the years but you rarely hear anybody comment on his ballhandling skills. It is an aspect of his game that I often marvel at, especially considering he is out there playing with nine fully functioning fingers.
Darius Soriano, Forum Blue And Gold: Steve Blake's numbers, staring me in the face, are pretty startling. He obviously had a tough season and never seemed fully comfortable, but his 29 percent shooting on 2-point shots and 30 total free throws all season crystallize how out of whack his first go-round as a Laker really was.
---
4. Based on Hollinger's profiles, what do the Lakers need most?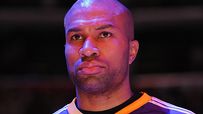 J.A. Adande, ESPN.com: A point guard. But that's not just based on Hollinger's profiles; that's based on voluminous emails and tweets from Lakers fans over the years. It won't help the situation that Derek Fisher spent the past few months flying to New York so he could sit in unproductive meetings instead of working out.
Andy Kamenetzky, ESPN LA: A shooter, although that was just as obvious even without reading John's fine work. The Lakers have pushed their luck for years without a consistent outside threat, and the bubble burst last season. Whether it's through new blood or internal improvement (cough … Steve Blake … cough), the Lakers absolutely have to stretch the floor better.
Brian Kamenetzky, ESPN LA: Point guard, except that isn't going to happen. The free-agent market is thin, and preseason trade scenarios are too complex. So from there, the dial turns to outside shooting -- the Lakers desperately need someone who can stretch the floor -- and a more viable option to stick behind Gasol and Bynum than Ratliff was last season.
Dave McMenamin, ESPN LA: Some youth and athleticism would be nice, especially since Hollinger included Shannon Brown on the team when he could very well walk as a free agent.
Darius Soriano, Forum Blue And Gold: Improved point guard play is highest on the Lakers' list of needs because getting better performance from this spot can fill two holes -- L.A.'s horrid PG production and its outside shooting woes. Blake and Fisher's primary offensive contributions must be as spot-up shooters. If they're hitting open 3-pointers, it will greatly improve the Lakers' offense.
---
5. Will a shortened season help or hurt the Lakers?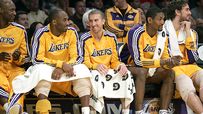 J.A. Adande, ESPN.com: The shortened season and quickie training camp hurts the Lakers, who need to adjust to a new coach and his system. The reduction to 66 games also means that Bynum's five-game suspension for his takedown of Barea in Game 4 represents 7.6 percent of the season, instead of 6 percent. So there's that, too.
Andy Kamenetzky, ESPN LA: Hurt, by a long shot. There's less time to learn a new coach's system (and it ain't like chemistry overflowed last season to begin with). Plus, whatever physical benefits came from an extended offseason -- for the veterans' aging bodies or Bynum's youthful-but-brittle body -- will be offset by games squeezed together and fewer days off to recuperate.
Brian Kamenetzky, ESPN LA: Well, 66 games compressed is better than 75, but overall it hurts. Beyond the age and mileage factor for guys like Kobe and Derek Fisher, the Lakers have a new coach bringing a new system, will have a short-to-the-point-of-useless training camp to learn it, and fewer off days to improve through practice.
Dave McMenamin, ESPN LA: Can't see how it can help. The compressed training camp will put pressure on Mike Brown to indoctrinate the players with his offensive and defensive philosophies. Plus, packing 66 games into a season that's two months shorter than the regular season we're used to means there will be fewer practices throughout the year. The one universal complaint by Lakers players as they sifted through the rubble after last season's disappointing finish was that practices weren't consistent enough.
Darius Soriano, Forum Blue And Gold: It's not so much the shortened season that will hurt the Lakers but the number of games they'll play in that reduced time frame. Shorter turnaround time between games means less rest for aged legs and less practice time to work on the schemes of a new coaching staff.


ESPN.com and the TrueHoop Network
J.A. Adande is a senior NBA writer for ESPN.com. Andy Kamenetzky, Brian Kamenetzky and Dave McMenamin cover the Lakers for ESPN Los Angeles. Darius Soriano contributes to the TrueHoop Network.
• Follow ESPN's NBA coverage on Twitter | On Facebook