P. Diddy, son stop by UCLA practice
Updated:
August 17, 2011, 4:22 PM ET
By
Peter Yoon
| ESPNLosAngeles.com
UCLA's football practice became a celebrity affair Wednesday morning when singer/fashion designer Sean "P. Diddy" Combs showed up with his son, UCLA recruit Justin Combs, along with a star-studded entourage.
[+] Enlarge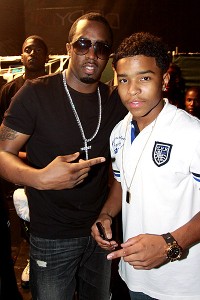 Getty ImagesP. Diddy and his son Justin brought an entourage of NBA stars to UCLA's practice on Wednesday.
Former UCLA basketball players Kevin Love, Russell Westbrook and Baron Davis were there, along with Olympic sprint champion Maurice Green and former NFL star Keyshawn Johnson, turning UCLA's sideline into an ESPY-like red carpet.
Justin Combs is a cornerback at Iona Prep in New Rochelle, N.Y. He has offers from Illinois, Virginia and Wyoming, and many of the UCLA players surrounded Sean Combs looking for autographs and to have a word with the multimedia mogul, but coach Rick Neuheisel seemed interested in Westbrook, Love and Davis, who seemed noticeably trimmer than he did during his time with the Los Angeles Clippers last season.
"A tight end, a wide out and a strong safety," Neuheisel said, pointing first at Love and then at Westbrook then at Davis as the three tossed around a football.
"I need some cleats," Westbrook responded, apparently looking for a side job during the NBA lockout. "Size 14."
Love, too, put out the verbal out of work sign when he chimed in with "size 18 for me."
"I've got those," Neuheisel said. "We'll get them for you."
Peter Yoon covers UCLA for ESPNLosAngeles.com.
ESPNLosAngeles.com
Has covered sports in Southern California for 15 years
Previously a staff writer for the Los Angeles Times from 1995-2008.
Covers UCLA for ESPNLosAngeles.com
MORE COLLEGE FOOTBALL HEADLINES