Mara: Expanded playoffs will wait
Updated:
April 23, 2014, 11:43 AM ET
ESPN.com news services
Although NFL commissioner Roger Goodell hasn't shut the door on the possibility of expanding the playoff field from 12 to 14 teams for the 2014 season, New York Giants president John Mara believes the league has all but tabled the idea for this season.
Too Much Of A Good Thing?

If the NFL expanded to 14 playoff teams, that would mean nearly 44 percent of the league would play in the postseason. That figure still would be less than the NBA and NHL.
Percentage Of Teams
To Qualify For Playoffs
League
Percentage
*- Proposed 14 teams
**- Includes wild-card teams
--ESPN Stats & Information
NBA
53.3
NHL
53.3
NFL
43.7*
MLB
33.3**
"I don't think it's going to happen this year," Mara told Newsday on Tuesday. "I think it's kind of late. We have a May [20 owners] meeting [in Atlanta], but I sense that we'll wait a year before we do that. It hasn't been voted on yet."
Mara, who is part of the NFL's competition committee, told Newsday that while he's optimistic that the proposal will "pass at some point," he just can't see it happening for the upcoming season.
"[The league] would notify us in advance, but I'm thinking it's probably not going to happen for another year or so," Mara said.
At the NFL owners meetings in March, Goodell said that expanding the playoff field for the upcoming season was not the goal, as there was still more work to do, but he added that "it's not out of the question" and that he "wouldn't rule it out."
The competition committee has supported the idea of expanding the postseason field from 12 to 14 teams -- seven in each conference -- for the past two years.
"I think there's a tremendous amount of interest in this, possibly even to the point of support, but we want to make sure we do it right," Goodell said in March. "We've been very incremental when trying to do this. But we believed it could make our races toward the end of the season even more exciting, [with] more teams vying for playoff positions, which is great for our fans."
THE NFL ON ESPN.COM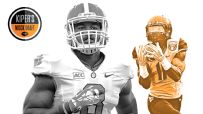 Kevin White's combine performance vaulted him into the top five in Mel Kiper's latest mock draft.