No NFL team in L.A. for 2013
Updated:
January 16, 2013, 3:33 PM ET
By
Arash Markazi
| ESPNLosAngeles.com
LOS ANGELES -- The NFL has not played a game in Los Angeles since 1994 and the league will not return to the second largest city and television market in the United States before 2014.
No NFL team will file for relocation to Los Angeles by the league mandated Feb. 15 deadline, multiple sources told ESPNLosAngeles.com, pushing any timeline for the league's return to the city back at least another year.
The news does not come as a complete surprise despite the fact that Los Angeles has two shovel-ready stadium proposals waiting for a prospective team.
Farmers Field, a proposed $1.5 billion downtown football stadium connected to an expanded Los Angeles Convention Center, is ready for construction but the Anschutz Entertainment Group, the company behind the project, is currently up for sale. The bidding process for the company is currently in the early stages and the sale of the company will not be completed by Feb. 15, according to multiple sources.
A competing stadium proposed by real estate magnate Ed Roski in the City of Industry has been ready to push dirt since 2009 with little traction.
Not only is it quiet on the stadium front in Los Angeles but the prospective teams that could move to Los Angeles look to be staying in their current cities for at least one more season as well.
San Diego mayor Bob Filner said Tuesday night that the San Diego Chargers will not opt out of their lease at Qualcomm Stadium in 2013 and will not file an application to move to Los Angeles this year. The announcement was later confirmed by Chargers special counsel Mark Fabiani.
That does not necessarily mean the Chargers will stay in San Diego after the 2013 season. The team is no closer to getting a new stadium in San Diego today than they were when they began searching for alternatives to Qualcomm Stadium over a decade ago. Each year through 2020, the Chargers can announce their intention to leave San Diego on condition they pay off bonds that were sold to expand Qualcomm Stadium in 1997.
The St. Louis Rams, who left Los Angeles for St. Louis after the 1994 season, are currently in arbitration with the St. Louis Convention and Visitors Commission over plans to renovate the Edward Jones Dome and make it a "first tier" NFL stadium.
The lease agreement between the Rams and CVC requires the dome to be among the top quarter of all NFL stadiums by 2015 or the Rams can break the lease. The dome is currently one of the older stadiums in the league. The CVC has proposed $124 million in renovations, while a plan from the Rams would cost at least $700 million, according to CVC estimates.
Rams owner Stan Kroenke made a failed bid to buy the Los Angeles Dodgers last year and has a home in Malibu, Calif. Kroenke, who also owns the Denver Nuggets, was seen speaking with minority Los Angeles Lakers owner Patrick Soon-Shiong during the Lakers-Nuggets game Jan. 6. Soon-Shiong, who is the richest man in Los Angeles, according to Forbes and the Los Angeles Business Journal, with a net worth of over $7 billion, is currently bidding to buy AEG.
AEG president and CEO Tim Leiweke has said plans for Farmers Field and bringing the NFL back to Los Angeles would continue with the new owner of AEG and expected the process to potentially drag into 2014 when ESPNLosAngeles.com spoke to him last year. Leiweke, however, is hopeful that a deal can be reached to bring the NFL back to Los Angeles by 2014 or 2015.
"February 2013 is going to be a moment in time for this city and then February 2014 is going to be another moment," Leiweke said last year. "What I'm going to tell you is we won't be sitting here in February 2016 still chasing Farmers Field."
ESPNLosAngeles.com
Former columnist and writer after five years with Sports Illustrated
Markazi has also written for Slam, King, Vibe and Playboy
On board of directors for Jim Murray Memorial Foundation.
SUPER BOWL XLVII COVERAGE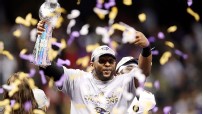 Follow the NFL on ESPN on Facebook
Road to Superdome | Super Bowl results NFL Stadium Guides | QBR ratings
Super Bowl Bowl topics
SUPER BOWL CENTRAL
RAVENS 34, 49ERS 31
SUPER BOWL WEEK HIGHLIGHTS
SPORTSNATION
2013 NFL DRAFT
Nike Men's Home Game Jersey St. Louis Rams Alec Ogletree #52 Shop »