Todd Christensen dies at 57
Updated:
November 13, 2013, 5:26 PM ET
ESPN.com news services
Todd Christensen, a five-time Pro Bowl tight end who played most of his career for the Raiders, died Wednesday from complications during liver transplant surgery. He was 57.
Brigham Young University, where Christensen starred as a running back from 1974 to 1977 and was inducted into the school's hall of fame in 1992, said in a tweet Wednesday he died from complications from surgery.
[+] Enlarge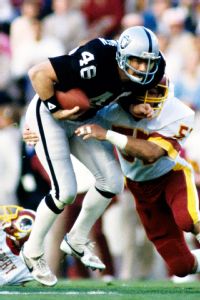 Richard Mackson/USA TODAYTodd Christensen played in 136 games for the Raiders, helping the franchise to two Super Bowl wins.
Christensen's son Toby later told The Associated Press his father passed away Wednesday morning at Intermountain Medical Center near his home in Alpine, Utah. The Salt Lake Tribune reported he battled liver disease and other serious illnesses in recent years.
"I've been receiving hundreds of texts, Facebook postings and emails -- from everybody with a story about my dad," Toby Christensen said.
A member of four Western Athletic Conference championship teams at BYU, Christensen was a first-team WAC selection as a senior. He finished his college career with 1,089 rushing yards and seven touchdowns along with 1,566 receiving yards and 13 touchdown receptions.
Taken in the second round of the 1978 draft by the Dallas Cowboys, Christensen broke his foot during training camp and didn't play in the regular season for the eventual NFC champions. He was released before the next season.
The New York Giants claimed him on waivers, but Christensen played only one game with the team. He played 136 of his 137 career games for the Raiders, winning two Super Bowls (1980, 1983) with the franchise.
He led the NFL in catches twice (92 in 1982, 95 in '86), setting a league record for receptions by a tight end both seasons. The Cowboys' Jason Witten holds the record now with 110 catches in 2012.
Christensen retired after the 1988 season with 461 receptions for 5,872 yards and 41 touchdowns.
Christensen, at 6-foot-3 and 230 pounds, was a thoughtful son of a professor. He even read his own poetry at a news conference before the AFC Championship Game against the Seattle Seahawks in January 1983.
"I thought you might be interested in something that I wrote in training camp that I think is apropos here," Christensen told the assembled media. "This is something I've written concerning the Raider organization, and this is entitled, 'A Destiny to Win.'"
Upon completing the 15-verse poem, many of the reporters gathered burst into applause.
"I remember Todd as always using big words and quoting famous authors and poets," former coach Tom Flores said in a statement released by the Raiders. "He was comical at times because no one knew what he was talking about. I hadn't seen much of him lately but miss the fun, great times we all shared as a Raider family."
Former Raiders teammate James Lofton was among those to use Twitter to remember Christensen:
Really sadden to hear about the passing of former teammate Todd Christensen. He was truly great both on and off the field.

— James Lofton (@lofton80) November 13, 2013
"I am deeply saddened to hear the news about the passing of my former teammate Todd Christensen. Todd was a special player and an exemplary teammate, and I cherished our time together as Raiders," Oakland general manager Reggie McKenzie said in the team's statement. "The thoughts and prayers of the entire Raider family are with the Christensen family in this time of mourning."
Christensen became a broadcaster on NFL games for NBC in the 1990s. He also worked as a commentator on college football broadcasts for ESPN, CBS Sports and the Mountain West Conference's network.
He was a devout Mormon who didn't drink, and family members believe his liver problems began 25 years ago after a "botched" gall bladder operation, his son told the AP.
A native of Pennsylvania, Christensen and his family moved to Eugene, Ore., when he was a child, and he became a standout at Sheldon High School. He was later inducted into the Oregon Sports Hall of Fame.
Christensen is survived by his wife and four sons. The family was making plans for a funeral as early as Saturday at a local Mormon church ward house in Alpine.
Information from The Associated Press was used in this report.
THE NFL ON ESPN.COM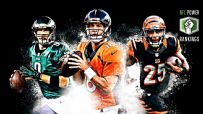 Seattle's surprising loss dropped the champs in our hierarchy. Who snared the top spot?