Commentary
Coaching, character and composure
Under Sutter, Kings maintain focus to overcome adversities no matter how dire
Updated:
May 25, 2014, 3:40 AM ET
By
Arash Markazi
| ESPNLosAngeles.com
LOS ANGELES -- It is impossible to gauge a game, much less a series, by looking at Darryl Sutter's face or the body language of his players.
Sure, there are mood swings during the course of every game and every series in the playoffs. But you wouldn't know it by looking at the Los Angeles Kings on the bench or walking into their dressing room after games.
Regardless of the position they are in -- and they have been in some dire positions this postseason -- there always is a belief that their game plan, their system and their sheer resolve eventually will get them where they want to go.
[+] Enlarge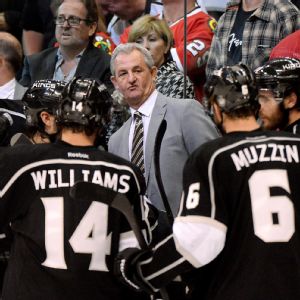 Harry How/Getty Images"Obviously, [coach] Darryl [Sutter] isn't going to let us step off the gas pedal at any time, and he's going to be hard on us no matter what the score is," said Kings defenseman Drew Doughty.
They might lose the first three games of a series, they might lose three straight games in a series after winning the first two, they might need a last-second goal at the end of regulation or five goals in the third period, but some way, somehow, they will get to their desired destination one way.
It is an inexact science that has the Kings two wins away from their second Western Conference championship in three seasons after Saturday's 4-3 win over the Chicago Blackhawks.
Two years ago, the script was far easier to follow. Like the plot of a cookie-cutter romantic comedy, you knew the ending before the opening credits were done. The Kings would win the first three games of every series, win every road game and close the series out without much drama.
This year's postseason run is more like an action thriller, and the fans are feeling more and more confident about a winning finish, regardless of the position the Kings find themselves in.
The seeds of that confidence were first planted by Sutter when he became the Kings' coach midway through the 2011-12 season. The pieces were in place for the Kings to become a championship team, but they were missing a coach like Sutter who told them to trust in themselves and never deviate from the game plan no matter what obstacles lay ahead.
"Our leaders are the ones that lead the way and show that composure," Kings defenseman Drew Doughty said. "When they're showing that, the younger guys do the same thing. The guys that have been successful in this league so far, they see the things they're doing and they try to do the exact same things.
"Obviously, Darryl isn't going to let us step off the gas pedal at any time, and he's going to be hard on us no matter what the score is."
While the core group of the Kings is the same that won the Stanley Cup two seasons ago, the roster also is littered with young players that are beginning to learn what it takes to win in the postseason. Tanner Pearson, 21, and Tyler Toffoli, 22, have points in the past four games and have been two of the Kings' most consistent players during these Western Conference finals.
"I think these guys just hate to lose," Pearson said. "From the experience of the older guys right down to us young guys, everyone wants to chip in and do their part. We don't want to let our teammates down.
[+] Enlarge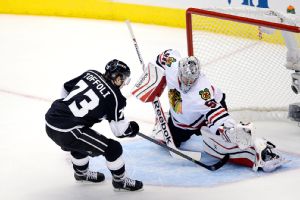 Richard Mackson/USA TODAY SportsThe Kings' veterans have passed their leadership skills on to younger players such as Tyler Toffoli, who scored in Saturday's win against Chicago.
"I think the big thing is the trust and confidence in your teammates. A lot of the guys here won the cup in 2012, so they know what to do. And being around them has definitely helped me out."
As Kings captain Dustin Brown looked around the dressing room after Saturday's game, he shook his head when asked about the Kings' penchant for finding their way out of difficult positions time and time again this postseason.
"It's just being together for an extended period of time," Brown said. "We've had the same group of players that have gone to the top together. That goes a long way in climbing the next one."
It would have been easy for the Kings to get down on themselves during the first period of Saturday's game, after Jonathan Toews scored a short-handed goal on a Kings power play that deflated the sellout crowd.
But less than minute later, on the same power play, Slava Voynov tied the game.
When Toews again gave Chicago a 2-1 lead heading into intermission, the Kings didn't flinch, either, as Jeff Carter tied the game early in the second period before Toffoli gave them the lead for good.
"It's kind of a dagger when you're out there on the power play trying to create a goal and you have the extra man and they get a short-handed one. It hurts a little bit," Doughty said. "To have that character to come back and capitalize on that same power play, that just shifted the momentum back on our side."
Momentum swings are an inherent part of sports, especially in the postseason, but with the Kings it's almost as if it's background noise as they continue on their path. Their approach doesn't change whether they're up or down 2-1 in a game or a series.
"We're never too high; never too low," Carter said. "I think that's kind of how we go.
"I think that comes from the guys in our room. We have a lot of character guys who've played in a lot of big games, know how to win."
The Kings are two wins away from returning to the Stanley Cup finals. But there was, as usual this postseason, few smiles in the dressing room or in the news conference room after the game.
"We're here for a reason," Doughty said. "We're not here to win a few games. Our ultimate goal is to win the Stanley Cup.
"But there are obviously a lot of obstacles before that can happen, and this is our toughest one yet."
ESPNLosAngeles.com
Former columnist and writer after five years with Sports Illustrated
Markazi has also written for Slam, King, Vibe and Playboy
On board of directors for Jim Murray Memorial Foundation.