Commentary
Kings get comfortable just in time
Playing the role of favorite doesn't suit L.A. early, but team finds way to win Game 1
Updated:
June 5, 2014, 4:59 AM ET
By
Arash Markazi
| ESPNLosAngeles.com
LOS ANGELES -- The Los Angeles Kings were out of their comfort zone.
They were opening a playoff series at home for only the second time since 1992 -- a span of 23 postseason series.
The team that, as the third-place team from the Pacific Division, had won three straight Game 7s on the road to reach the Stanley Cup finals and had won the Stanley Cup two years ago as the eighth seed in the Western Conference came in as heavy favorites for the first time since most of them could remember.
Most teams work all season to earn home ice and the "favorite" label, but like a blue-collar worker forced to wear a suit behind a desk, such recognition seemed to make the Kings itchy and uncomfortable. They didn't like answering questions about being the favorites coming into the game and didn't exactly know how to react to opening the playoffs in front of their home fans instead of a hostile environment.
[+] Enlarge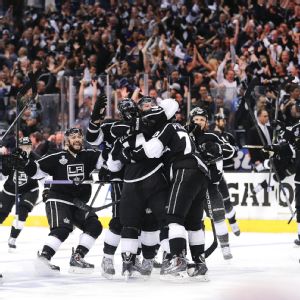 AP Photo/Jae C. HongThe Kings celebrate Justin Williams' goal in overtime of their Game 1 victory over the Rangers at Staples Center.
It wasn't until they fell behind 2-0 in the first period that these "Comeback Kings" loosened their ties and got comfortable. The Kings would go on to tie the score by the second period and dominate a scoreless third, outshooting the New York Rangers 20-3 before Justin Williams, now known for his Game 7 heroics, became the hero in Game 1 with the winning goal at 4:36 into overtime, thereby giving the Kings a 3-2 victory and a 1-0 series lead in the Stanley Cup finals.
It was an all-too-familiar ending for the Kings this postseason, despite once again putting themselves in a position in which they'd rather not be.
"That's not the way we want to start games," said Drew Doughty, who scored the tying goal in the second period. "It kind of got us off on the wrong foot."
It was a message echoed postgame by most of the players in the Kings' dressing room, even though they once again found a way to come back.
"Not the start we wanted," said Kyle Clifford, who scored the Kings' first goal of the game and cut the Rangers' lead in half in the first period. "We know we've got to be better. It wasn't our best game."
Added Mike Richards: "It's obviously not the way we drew it up."
The Kings, of course, are saying all the right things after winning a game in which they did not play their best hockey, but the fact is they might as well start drawing up games like this. Their fans are getting used to watching it play out the way Wednesday's game did.
After all, the Kings got to the Stanley Cup finals by coming from two goals down in the first period at Chicago and winning in overtime. They almost followed the same script to close out the series in Game 5. And let's not forget the comeback from a 3-0 series deficit against San Jose in the first round and three straight losses to Anaheim in the second round, which made this squad the first team in history to win back-to-back series in which they lost three straight games.
[+] Enlarge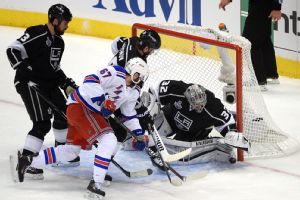 Richard Mackson/USA TODAY SportsKings goalie Jonathan Quick makes a save on Benoit Pouliot during the first period. Quick's key saves late put the Kings in position to win.
"It certainly helps that we've done it time and time again," Williams said. "But we have a lot of things to clean up. That's certainly not our best game by any standard, but we were able to get it done. That's the most important thing."
The Kings know they'll need better to take three more games from the Eastern Conference champions.
"We certainly don't want to make a habit out of this," Williams said. "That is a world-class team up there with world-class offense. There could have been a lot of storylines tonight. They had a breakaway in the end of the third period that [Jonathan] Quick made a great save on. We wouldn't be sitting here right now ..."
Wednesday's comeback win was the Kings' fourth multigoal comeback victory this postseason. The most recent team to post as many such victories in one playoff year was the Philadelphia Flyers in 1987.
Also, this was the third straight year that Game 1 of the Stanley Cup finals ended in overtime. The past two winners of those games -- the Kings and the Blackhawks -- went on to win the Stanley Cup in six games.
"There is no doubt that we believe that any hockey game is within reach for us," defenseman Willie Mitchell said. "It goes deeper than this year. It goes back to 2012, when we made a run and overcame a lot of odds to get into the playoffs. When you have success and win, you have a belief that anything is possible with this group."
That's a belief that continues to grow with every comeback win, even if the Kings claim they don't like putting themselves in position to come back. Whether the Kings want to admit it, it's a position they relish.
And they won't mind riding it all the way to another championship if they can win three more games, comeback or not.
ESPNLosAngeles.com
Former columnist and writer after five years with Sports Illustrated
Markazi has also written for Slam, King, Vibe and Playboy
On board of directors for Jim Murray Memorial Foundation.