Commentary
Gaborik proves perfect fit with Kings
Scoring touch helps net winger his first Stanley Cup win against former team
Updated:
June 14, 2014, 4:11 AM ET
By
Arash Markazi
| ESPNLosAngeles.com
LOS ANGELES -- Dean Lombardi flashed a slight smile and adjusted the Stanley Cup champions hat on his head when he was asked to recall the moment he knew Marian Gaborik would be a good fit for the Los Angeles Kings.
The Kings' general manager had just congratulated the 32-year-old forward he acquired a little over three months ago in a trade-deadline deal, hoping for a little more offense and ending up with the leading goal scorer during the Kings' magical postseason run to their second Stanley Cup in three years.
"When [Jeff] Carter picked him out and [Mike] Richards took him out to breakfast in the morning, you saw a little spring," Lombardi said of the trade. "Your players are the ones who know. Even as a GM, and everyone wants to handicap trades, but watch your players when you make a deal. They're the ones who know."
When the deal was made, the Kings were in the midst of a three-game trip in Canada, beginning in Winnipeg and continuing on to Edmonton and Calgary. Jack Ferreira, the Kings' special assistant to the general manager, was with the team in Winnipeg when Gaborik arrived and immediately called Lombardi after seeing him around the team.
"Jack's been around a long time," Lombardi said. "And that's the first thing he said: There's a spring in their step. The players are the ones that tell you when you do the right thing."
[+] Enlarge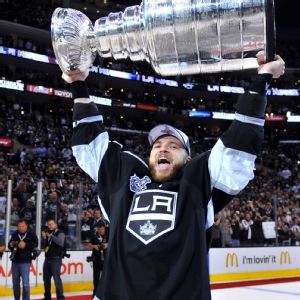 Gary A. Vasquez/USA TODAY SportsMarian Gaborik, who played three-plus seasons for the New York Rangers, finally was able to lift the Stanley Cup, though he admitted it was tough playing against his former team.
It wasn't hard to see why the Kings would embrace a sniper like Gaborik, who came to the Kings from the Columbus Blue Jackets for forward Matt Frattin, a second-round pick and a conditional third-round pick. The Kings were one of the five-lowest-scoring teams in the league, which is where they would finish the season, and leaned heavily on a defense that gave up the fewest goals in the league.
In Gaborik, they had a player who could potentially change their team and give them the kind of scoring punch they needed when the playoffs rolled around. But there was more than that. Gaborik wasn't only the best offensive option for the Kings at the trade deadline, their research found he was probably also the best fit in the dressing room. He was well-liked at every stop, and you would be hard-pressed to hear a teammate say a negative thing about him.
It's one of the reasons why this Stanley Cup title run was so special for Gaborik. He was not only going for his first one, but he was doing so against the New York Rangers, the team he spent more than three seasons with before being traded to Columbus at the 2013 deadline.
"Quite frankly, it was a special series," Gaborik said. "To play against those guys, it was a very difficult. They have a great team."
Gaborik made an instant impact on the Kings, but it wasn't until the playoffs rolled around that the Kings realized how big of an impact he would have. Gaborik ended up with 14 goals in the postseason, the most in the league and the most since 2009. He had only 11 goals during the regular season.
On Friday, Gaborik scored the tying goal to send the game into overtime and had several shots at scoring the winner during both overtime periods. When it was finally over, Gaborik was the third Kings player handed the Stanley Cup so he could hoist it for the first time.
"It's unbelievable feeling," Gaborik said, standing on the ice with the Stanley Cup. "It doesn't get better than this. When you get older, you appreciate it more. These chances don't come along every year, and I'm fortunate and grateful to be part of a Stanley Cup team."
Two years ago, it was Carter getting traded from Columbus at the deadline to Los Angeles and helping the Kings win their first Stanley Cup. This year, it was Gaborik making the similar journey. Carter was the player who helped him get acclimated to L.A. It was a kind of passing of the torch that speaks to the culture in the Kings' dressing room and growth of Carter since he arrived.
"Carter, his emergence as a leader has been really special," Lombardi said, adding: "He was the first one to grab Gaborik when he came in, and he said, 'You're staying with me.' ... I'm not sure that's the same player that was there three years ago. I think it's an incredible lesson in how an athlete, how he grows as a person can be as important as how much he gets in shape. It's just fabulous to see how far he's come."
Lombardi says he believes that Gaborik, 32, can have the same type of growth if he stays in Los Angeles. He's a free agent after this season but all signs are pointing to the two sides figuring out a way to continue the relationship.
"There's a little bit of Teemu Selanne in there," Lombardi said. "When Selanne finally won, he went to another level and I think sometimes when you experience something like this, you realize there are things more important than stats. He's a great kid. The one thing our scouts did was before the deadline, everyone knew we were looking for offense and the digging they did, they found out about him as a person. Because we knew if he got into our room and he was a good person, there's a good chance he was going to acclimate given the way those guys were in the room. It started with him. The marks he got as a person and a teammate were first class."
When Lombardi was asked if he thought Gaborik would stay with the Kings, he once again flashed a slight smile.
"Ask him," he said. "We're certainly hoping he stays."
ESPNLosAngeles.com
Former columnist and writer after five years with Sports Illustrated
Markazi has also written for Slam, King, Vibe and Playboy
On board of directors for Jim Murray Memorial Foundation.