Exhausted Kings fans celebrate Cup
Updated:
June 14, 2014, 9:49 AM ET
Associated Press
LOS ANGELES -- Hockey has gone Hollywood -- and Hollywood couldn't be happier.
The Los Angeles Kings won their second Stanley Cup in three years Friday night, practically forcing a town never known for its love of the sport to take notice and embrace them.
[+] Enlarge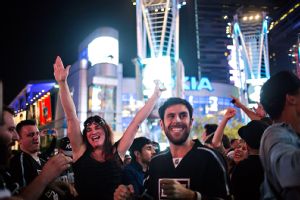 Eric Thayer/Getty ImagesFans celebrate the Kings' second Stanley Cup in the last three years.
"It's the second happiest day of my life," said 18-year-old Eric Ex of Los Angeles. "The first was the last time they won two years ago."
The exhaustion Kings fans felt after four hours and two overtimes was immediately replaced by jubilation as the team scored the winning goal to beat the New York Rangers 3-2 in five games.
Huge whoops went up in downtown Los Angeles both inside and outside Staples Center. Fans draped in black in sports bars and watching big screens outside the arena leaped into the air with arms stretched, howled hugged and high-fived when the winning goal went in.
Soon giant inflatable Stanley Cups were getting batted around in the plaza outside the arena and in surrounding streets shut down for the celebration. Streamers and thrown rolls of toilet paper filled the air. Shouts and screams of "Go Kings go!" could be heard for blocks around.
More from ESPN.com

After years of suffering, two Cups in three years won't be taken for granted by Kings fans, Arash Markazi writes. Story
---

The 2013-14 Kings won the Stanley Cup because they were able to form a unique bond, Scott Burnside writes. Story
---

Drew Doughty and Jeff Carter join the rare club of those who have won an Olympic gold medal and a Stanley Cup in the same year, Pierre LeBrun writes. Story
"Oh my God, that's all I can say," said Jordan Mugford, 24, wearing a Kings jersey as he celebrated outside Staples Center. "This is the second time in three years. It's crazy. This whole city is going to change."
Lines of police on foot and on horseback patrolled streets and sidewalks but found few problems in the aftermath of the win, and few were expected. The celebration remained peaceful in 2012 also, with virtually none of the violence, vandalism and arson that has followed some Lakers' championship victories.
"A huge majority of folks were just great, enjoying themselves," Los Angeles Police Department Cmdr. Andrew Smith told City News Service. "A couple of people were a little excited at the end."
One person was arrested after the game for public drunkenness and two others for refusing to leave a restaurant in the plaza, city police Cmdr. Andy Smith said.
The rest of the city will get to join in the celebration at a downtown victory parade on Monday, Mayor Eric Garcetti's office announced shortly after the cup was clinched.
The Kings have now won two Stanley Cups since the Dodgers, Lakers, Clippers or Angels won their last championship. And while they've often been lukewarm about hockey, the city's fans love and expect trophies as much as anywhere.
"I think it's great that hockey is getting so much attention in LA," said Dominik Ebert, 17, of Los Angeles. "I was here two years ago when they won, and there was definitely more hype this time."

Copyright 2014 by The Associated Press