Commentary
Darryl Sutter, Kings and 2nd chances
L.A.'s coach was plucked from a ranch midseason and now is one win from a Cup
Updated:
June 5, 2012, 10:00 PM ET
By
Dan Arritt
| Special to ESPNLosAngeles.com
EL SEGUNDO, Calif. -- The door to the auxiliary locker room swung open on a recent weekday morning, and in stepped the man who said goodbye to his 1,500-acre cattle ranch in mid-December, accepting an offer from an old friend to take over as coach of a struggling Los Angeles Kings team.
Darryl Sutter took his place in front of the cameras and microphones, then paused to scan the eyes of those in attendance, almost as if searching for a certain person to pull from the crowd by the collar of their shirt. His eagle-eye stare burns with ferocity but also transmits a sense of honesty. He speaks the truth while looking you in the eye, even if it blows a hole in your pride.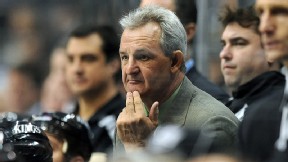 Andrew D. Bernstein/NHLI/Getty ImagesThe Kings, under fired coach Terry Murray and replacement Darryl Sutter (above), snuck into the playoffs with 95 points.
The players became familiar with these personality traits his first day on the job. It didn't matter if they had difficulty understanding his Rocky Balboa-like speech; they could see in his eyes that he meant business every step of the way. "His intensity is an intensity I haven't encountered," said Kings left wing
Dustin Penner
. The cattle rancher has used that intensity to prod the once lowest-scoring, least-entertaining team in the NHL to a three-games-to-none lead in the Stanley Cup finals. Another win Wednesday night in Game 4 at Staples Center, and L.A. will have its first NHL champion to crown. There's a modest-sized list of what turned this season around for the Kings, but right at the top belongs Sutter. The fall began with Terry Murray at the helm for a fourth straight year. He had guided the Kings to the playoffs in the previous two, but management was looking to take the next step, especially after an offseason trade that sent two promising young forwards to the
Philadelphia Flyers
in exchange for the more proven
Mike Richards
.
However, after a gleeful 5-1-1 start, the Kings hit the skids. They went 8-11-3 over the next seven weeks, failing to score more than two goals in 17 of those games. The offense wasn't producing, the players weren't responding and something had to change.
"

When he got in, it was a pretty big change, if you compare him to Terry Murray. He wanted to be more aggressive, keeping guys accountable. We've seen it time and time again, when maybe some of the guys aren't going, he's not afraid to sit them for a couple minutes.

"

-- Kings center Anze Kopitar, on Darryl Sutter
After a 2-1 loss to the Dallas Stars on Dec. 10, against a goalie who was making his NHL debut, general manager Dean Lombardi made the difficult decision to fire Murray, a man who had instilled his defense-first philosophy to near-perfection but just couldn't light a fire under the team.
Lombardi knew someone who might. He was the general manager when Sutter coached the
San Jose Sharks
from 1997 to 2003. They managed to win only two playoff rounds in their seven seasons together, but Lombardi sensed that Sutter might have the personality to wring the most from his talented but underachieving group. First, he had to make sure Sutter was interested. Sutter wasn't completely cut off from the hockey world while living on his ranch in rural Alberta; he knew what kind of talent the Kings had on the roster. They were built to go deep into the playoffs, stocked with a combination of burgeoning superstars, middle-aged veterans with Stanley Cup finals experience and role players who performed their tasks well. All that was needed was a little tough love. Murray was a teacher who liked to run drills. Sutter is a drill sergeant who knows how to teach but would rather leave that to his assistants. "When he got in, it was a pretty big change, if you compare him to Terry Murray," said Kings center
Anze Kopitar
. "He wanted to be more aggressive, keeping guys accountable. We've seen it time and time again, when maybe some of the guys aren't going, he's not afraid to sit them for a couple minutes."
More On The Kings

To get the latest news and notes on the Los Angeles Kings, check out the team's blog from ESPNLA.com. Blog
Sutter's coaching didn't deliver immediate results. Not even close. The Kings didn't win more than two straight games with Sutter behind the bench until Feb. 28 through March 6, shortly after they traded for another high-scoring forward with Stanley Cup finals experience,
Jeff Carter
. They followed that with a six-game winning streak -- their longest of the season -- the push they needed to secure the eighth and final seed into the Stanley Cup playoffs. That allowed them to flush everything that happened during the regular season and start with a clean slate. That second chance was just what the Kings needed, as they won 15 of 17 postseason games, including all 10 on the road, to bring them to the edge of a Stanley Cup title. "We're a confident group right now," Kopitar said. Sutter's not ready crack a smile just yet. One of the latest Sutter-isms he has dropped on the media this season is "You don't get nothin' for three," in reference to the four wins it takes to win a playoff series. Until the Kings achieve win No. 4 in the Stanley Cup finals, Sutter won't stop demanding every ounce of energy and emotion from his team. And if that happens, that stare might just soften up a little. At least until training camp begins in September.