Commentary
Saxon's Early Line: USC vs. Notre Dame
Updated:
November 24, 2010, 2:41 AM ET
By
Mark Saxon
| ESPNLosAngeles.com
These aren't exactly boom times for college football's most storied intersectional rivalry. Neither team is ranked and USC is ineligible for a bowl game due to NCAA sanctions. The last time both teams were unranked entering this game was in Pete Carroll's first year, 2001, when the Irish won 27-16 in South Bend. Notre Dame (6-5) qualified for a bowl game by defeating Army last week while USC (7-4, 4-4 in the Pac-10) is coming off its worst loss of the year, a 36-7 beating at Oregon State. Let's examine some matchups in more depth:
USC running backs vs. Notre Dame front seven
---
Saxon's Take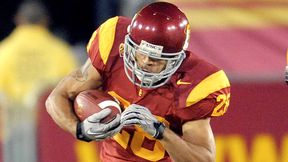 USC would love to establish a physical running game. The question: Who will do the running? The Trojans are beset by minor injuries in the backfield, with Marc Tyler (ankle) and Allen Bradford (toe) slowed. The Trojans expect speedy freshman Dillon Baxter (above) to be reinstated this week, which could help since Notre Dame's defense isn't the fastest. The Irish have made strides in slowing down opposing run games. After giving up 593 combined rushing yards to Purdue, Michigan and Michigan State, it held Stanford, Boston College, Pittsburgh and Western Michigan to 318. The Trojans offensive line is coming off its worst game.
Advantage:
USC
Your Take
USC quarterback vs. Notre Dame pass defense
---
Saxon's Take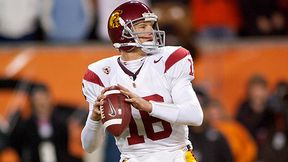 The Notre Dame defense hasn't allowed a touchdown since Tulsa's first drive, a span of 11 straight quarters. The last Irish team to defend its end zone so well was the 1980 team, which went 23 quarters without giving up a TD. If Mitch Mustain (above) plays as poorly as he did last week (8-of-17 for 60 yards), the streak could go on. Coach Lane Kiffin said he is hopeful Matt Barkley will be able to play. That seems unlikely since he's been on crutches and wearing a walking boot. The good news for USC fans: Mustain went 8-0 as a freshman at Arkansas in 2006.
Advantage:
Notre Dame
Your Take
Notre Dame running backs vs. USC front seven
---
Saxon's Take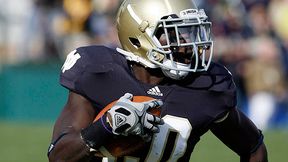 This season is the first in 44 years that Notre Dame has lost its No. 1 quarterback (Dayne Crist) and No. 1 tailback (Armando Allen Jr.) to season-ending injuries. Allen underwent surgery on a hip flexor following the Navy game. Cierre Wood (above) is Notre Dame's second-leading rusher, with 475 yards and two touchdowns on 92 carries and Robert Hughes has 151 yards and a TD on 30 carries. The Irish need to run the ball. They are 5-0 in games in which they have out-rushed an opponent and 1-5 in the rest. Believe it or not, the USC run defense had a fairly stout game against Oregon State.
Advantage:
USC
Your Take
Notre Dame quarterback vs. USC pass defense
---
Saxon's Take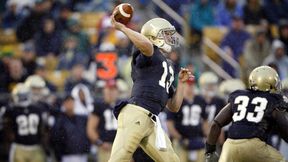 Nine freshmen quarterbacks have played for Notre Dame in the last 60 years, but four of them have played in this decade. Tommy Rees (above) wasn't supposed to be one of them, but he was forced into action when Crist got hurt. This week will be his first major test as he has played in two home games and one at a neutral site (Yankee Stadium). It would help if the Irish could get off to an early lead, as they have lately, and manage the game. The Trojans have one of the worst passing defenses in the nation, but their defensive line has potential to make Rees uncomfortable.
Advantage:
Notre Dame
Your Take
USC coaches vs. Notre Dame coaches
---
Saxon's Take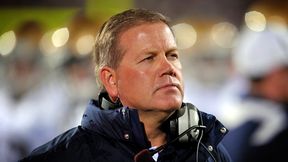 The Irish are looking to finish strong, which would be a nice way for Brian Kelly's (above) trying first season to end. Only six active FBS coaches have more wins than Kelly, but all but six of those 177 wins came at Central Michigan and Cincinnati. Kiffin's first season would be a success if he can finish these final two games strong, giving him four wins in the final five games and making that Oregon State game look like a speed bump. To lose one of these rivalry games would bring more scrutiny to Kiffin's staff.
Advantage:
USC
Your Take
ESPN Staff Writer
Mark Saxon is a staff writer for ESPNLosAngeles.com. He spent six years at the Orange County Register, and began his career at the Oakland Tribune, where he started an 11-year journey covering Major League Baseball. He has also covered colleges, including USC football and UCLA basketball.