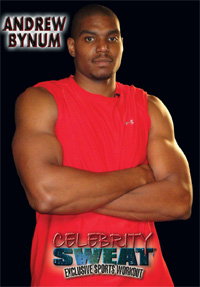 Lakers fans, get your copy of Celebrity Sweat featuring Andrew Bynum today. Visit celebritysweatbynum.com now to order.
710 ESPN VIP Club members, click the "register now" button below to enter for your chance to win copy of Andrew Bynum's new "Celebrity Sweat" workout DVD.

Not a member of the 710 ESPN VIP Club? Sign up for free now to stay connected to 710 ESPN and make yourself eligible to enter all of our online contests!
Celebrity Sweat, with host Hip Hop sensation, Nelly, is proud to present its second DVD featuring professional basketball star Andrew Bynum.
Andrew takes you through an exclusive workout highlighting his strength and conditioning routines that enable him to compete at the highest professional level.
Never before seen footage! Check out Andrew in action. Go behind the scenes with this exclusive video. Let Andrew show you how he "sweats it up". Go to celebritysweatbynum.com for more details.
"Celebrity Sweat" is the hottest new fitness DVD series, showcasing a behind-the-scenes look at workouts from popular athletes and celebrities. A star-studded lineup is excited about showcasing the best of what they do to stay in excellent physical shape, hoping that it inspires others to become more physically active, making for a healthier America.
Deadline for entry in this contest is 5/1/2011