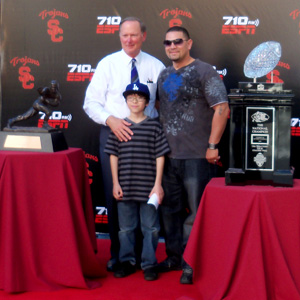 USC Athletic Director Pat Haden with fans.
Trojan fans! Come out to L.A. Live this Tuesday, April 12th from 6-7pm for a special autograph session hosted by 710 ESPN and featuring USC Trojans football coaches Lane Kiffin, Monte Kiffin, and Ed Orgeron.
If you can't make it to meet the coaches in-person, tune in at 5pm to Mason & Ireland and listen to Steve and John chat with the guys, or logon to ESPNLA.com for a LIVE online chat at 5:30pm.
Plus, don't miss the annual spring game on Saturday, April 23rd. We'll be broadcasting LIVE from the Coliseum from 9am to 3pm with Mark Willard, Pete Arbogast and Paul McDonald.
The USC Trojans Fight On at 710 ESPN!