The late actor, John Houseman was a British-American actor and film producer, perhaps best known for his role as Professor Charles W. Kingsfield, in the film and later television series "The Paper Chase", In 1973, he won the Oscar for Best Supporting Actor for his role in the film, and he received 2 Golden Globe nominations as Best Actor in a Drama for his role in the television series.
"The Paper Chase" tells the story of a first year law school student at Harvard, and his experiences with Professor Kingsfield, the brilliant, demanding Contracts Law instructor whom he both idolizes and finds incredibly intimidating. Kingsfield employs what he refers to as the Socratic method of teaching. In the television series, he explains, "I call on you, I ask you a question and you answer it. Through my questions, you learn to teach yourself. You will never in my classroom, reach the final correct and ultimate answer. In my classroom, there is always another question. There's always a question to follow your answer."
One of Kingsfield's more famous quotes, to his students on their first day of class, was: "We do brain surgery here. You teach yourselves the law. I train your minds. You come in here with a skull full of mush, and if you survive, you leave thinking as a lawyer."
Lakers Head Coach Phil Jackson uses a somewhat similar approach to coaching as well. He puts five players on the court and has them figure out for themselves what to do. With the exception of time-outs, seldom will you see instructions or advice being given during the game by either Jackson or his coaching staff. He wants those players that are on the court, to think and reason as basketball players.
This year's NBA Finals which begin on Thursday, renews a rivalry involving the two most storied franchises in NBA history, the Boston Celtics and the Los Angeles Lakers. Let's take a look at some statistics, including the history involving these two teams: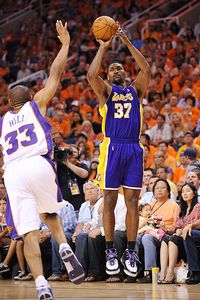 This time around, the Lakers hope to benefit from Ron Artest's defense and toughness
This will be the 12th time that the Lakers and Celtics will meet in the NBA Finals.

The Celtics have won 9 of the previous 11 meetings.

Boston won the first 8 meetings in 1959, 1962, 1963, 1965, 1966, 1968, 1969 and 1984. The Lakers then won in 1985 and 1987. The Celtics won again in 2008.

The Celtics have won 17 world championships.

The Lakers have won 15 world titles.

The two teams combined 32 championships account for more than half of the 63 championships in NBA history.

The Lakers are making their third straight appearance in the NBA Finals.

In 2009, according to Forbes magazine, the Lakers franchise was worth $607 million, while the Celtics were worth $433 million.

According to hoopsworld.com, the Lakers had the highest team salary this season at $91,378,064. The Celtics had the third highest payroll at $86,455,429.

According to the same source, this season Kobe Bryant is the highest paid player in the NBA at $23,034,375. Boston's Paul Pierce earns the top Celtic salary at $19,795,712, which placed him 7th on the list of NBA player salaries. In case you were wondering, LeBron James made $15,779,912.

Boston did not have a player be their leading scorer in back-to-back games in the first three rounds of this year's playoffs.

The Celtics have four superstars who can take over a game on any given night: Paul Pierce, Kevin Garnett, Ray Allen and Rajon Rondo. Garnett, Kendrick Perkins and Rondo are their leading rebounders.

The Lakers and Celtics split the season series at one game each, both teams winning on their opponent's court by one point.

On January 31st, the Lakers won 90-89 at Boston. In that game, Kobe Bryant and Andrew Bynum each scored 19 points, with Bryant adding 6 assists. Bynum and Pau Gasol had 11 rebounds each. For the Celtics: Rondo scored 21 points and had 12 assists. Paul Pierce had 15 points and Perkins had 10 rebounds.

On February 18th, the Celtics won 87-86 at STAPLES Center. Kobe Bryant did not play due to a sprained left ankle. All five Celtics starters scored in double figures (including Ray Allen's 24 points, Perkins with 13 points and 14 rebounds, and Rondo with 14 points and 11 assists). For the Lakers: Gasol led the scoring with 22 points. Lamar Odom finished with 13 points and 14 rebounds. The Lakers bench outscored the Celtics bench 24-12.

In the three home game wins vs. the Phoenix Suns in the just-completed Western Conference Finals; Lamar Odom averaged 17.7 points and 14.3 rebounds.

Phil Jackson has won 10 NBA titles. Last year, he surpassed Boston's Red Auerbach, who won 9.

The Celtics are averaging 96.6 points per game in 17 games in the playoffs. Their opponents are averaging 91.4 points per game in those 17 games.

The Lakers are averaging 105.7 points per game in 16 games in the playoffs. Their opponents are averaging 101.7 points per game in those 16 games.
Let's take a look what some of the Celtics and Lakers key players are averaging in the playoffs thus far:
For the Celtics:
Paul Pierce - 19.1 points and 6.2 rebounds
Ray Allen - 16.8 points
Rajon Rondo - 16.7 points and 10.0 assists
Kevin Garnett - 14.9 points and 8.2 rebounds
For the Lakers:
Kobe Bryant - 29.4 points and 6.2 assists
Pau Gasol - 20.0 points and 10.9 rebounds
Ron Artest - 11.5 points
Lamar Odom - 10.6 points and 9.5 rebounds
Andrew Bynum - 9.1 points and 7.7 rebounds
Lakers in best-of-seven series (includes NBA Finals series)
It's important to win Game #1 of the series. When winning Game 1 of a best-of-seven series, the Lakers are 59-7.

When Phil Jackson wins Game #1 of any playoff series, his teams are 47-0 (24-0 with Chicago, and 23-0 with LA).

When Jackson-led teams open a series with a 2-0 lead, he is 36-0 all-time.

And when holding a series lead of any kind, Jackson's teams are 54-1 all-time.

In the post-season, the Lakers are 27-40 against the Celtics. They are 17-15 against the Celtics at home, and 10-25 when playing at Boston.
In order to win the title this year, the Lakers must: match Boston's physical play, play tenacious defense, control the boards at both ends, get consistent strong contributions from their bench, limit Rondo's effectiveness, work the ball inside, hope that Gasol, Bynum, Artest and Odom are not afraid to battle underneath, don't go overboard in their 3-point shooting.
In what is now their final exam, it is upon the Lakers to demonstrate what they have learned, and that they can think like basketball players. In "The Paper Chase", Professor Kingsfield tells Hart, his most brilliant student (who eventually gets an A in the class), "Mister Hart, here is a dime. Take it and call your mother, and tell her there is serious doubt about you ever becoming a lawyer."
How many times do you think that Lakers coach Phil Jackson has pondered telling the same thing to one of his players, even if they are in the NBA? There might have been such a possibility several years ago with the brilliant Bryant, when the two strong personalities often had their differences.
Now, Jackson would probably be inclined to utter a similar comment for the often maligned Sasha Vujacic, whose flagrant elbow to the head of the Suns Goran Dragic, swung the momentum and almost cost the Lakers Game 6 of the Western Conference Finals. Instead, it was Bryant, when asked after the game, how he reacted when he saw Vujacic's elbowing of Dragic, replied, "I was gonna kill him". When asked if he still felt that way after the Lakers had won the series, Kobe replied, "I'm still gonna kill him."
Even Professor Charles W. Kingsfield would have smiled and agreed with that answer by the Lakers co-captain.