710 ESPN VIP Club members, click the "register now" button below to enter for a chance to join Brando, host of Action Sports @ 710 ESPN, and "Fast" Jack Beckman at the 50th Annual Kragen O'Reilly NHRA Winternationals, taking place Feb 11-14th at Auto Club Raceway at Pomona. Hang out with Brando, Jack and his Valvoline/Mail Terminal Services Dodge Charger Funny Car and pit crew!
If you're not selected as one of the lucky winners to hang out with Brando and "Fast" Jack, don't worry! We've got a ton of general admission tickets to give away, and you'll still be eligible to a pair!

Not a member of the 710 ESPN VIP Club? No problem! Sign up for free now to stay connected to 710 ESPN and make yourself eligible to enter all of our online contests!

"Fast" Jack talks to Brando about the team aspect of racing at the professional level, sizes up this season's field of competitors, and previews the upcoming NHRA Winternationals. Listen

---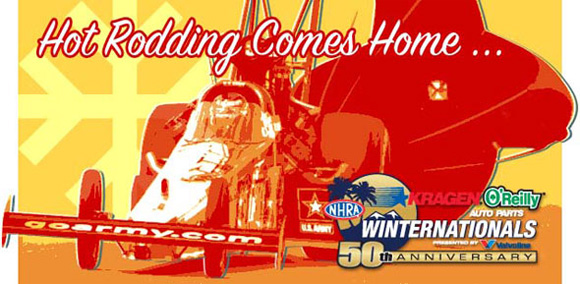 Classic. California. Cool.
From the classic images of Harrison Ford in American Graffiti to James Dean to The Fonz in Happy Days, the car -- the hot rod -- has always been at the center of Hollywood's projection of what it means to be cool in California.
Off the screen, the roots of the Southern California car culture are deepest at historic Auto Club Raceway at Pomona, where in February 1961, NHRA founder Wally Parks hosted the first running of the now-historic and iconic Winternationals.
Fast-forward half a century, and hot rodding's past will meet its present when the 0-to-100-mph-in-less-than-a-second, 7,000-horsepower hot rods of the NHRA Full Throttle Drag Racing Series descend on Auto Club Raceway at Pomona Feb. 11-14, 2010, for the 50th annual Kragen O'Reilly NHRA Winternationals.
NHRA will pay tribute to its past throughout what figures to be one of the most memorable and nostalgic race weeks in the sport's history as many of the legendary cars, drivers, and magical moments will be honored.
"This will be a once-in-a-lifetime event not just for fans in Southern California but for drag racing and hot rodding fans throughout the country," said Gary Darcy, NHRA senior vice president-sales & marketing. "With all of the ancillary events we're planning for that weekend, we believe the 50th annual Kragen O'Reilly NHRA Winternationals at historic Auto Club Raceway at Pomona will be a must-see, must-experience destination event for racing fans nationwide."