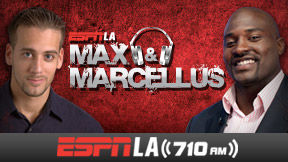 Stay entertained with Max & Marcellus
Hosts: Max & Marcellus
Weekdays 3:00 PM - 7:00 PM
Subscribe on iTunes


E-mail: max@710espn.com

Join the multi-talented Max Kellerman and former NFL star and ESPN analyst Marcellus Wiley weekdays from 3-7 p.m. for an in-depth look into the latest in L.A. sports and beyond. The dynamic duo of Max & Marcellus form an unparalleled one-two sports talk punch.
Thursday's Show Highlights
DISCUSS LAST NIGHT'S COMEBACK AGAINST THE HORNETS. DISCUSS THE D'ANTONI SYSTEM. TALK ABOUT HOW ANTWAN JAMISON AND HOW HE'S A SCORING MACHINE.
TALK ABOUT THE TRICK INBOUND PASS THAT FOOLED THE LAKERS. MARCELLUS COMPARED IT TO THE MUSIC CITY MIRACLE WHEN
METTA WORLD PEACE-LAKERS FORWARD TALKS ABOUT THE BIG COMEBACK LAST NIGHT AGAINST NIGHT VS. NEW ORLEANS. METTA SAYS WE HAVE TO STOP WATCHING KOBE AT TIMES. HE TALKS ABOUT THE TRICK PLAY AT THE END OF THE GAME WHEN KOBE ESCAPED WITH THE BREAKAWAY. METTA TALKS ABOUT BACKING DWIGHT HOWARD WHEN HE WAS DOWN. YOU HAVE TO BE THERE BY THEIR SIDE WHEN SOMEONE'S DOWN. HE TALKS ABOUT LEADERSHIP. HE TALKS ABOUT DWIGHT AND PASSING ALONG THAT DEFENSIVE MINDSET.
REACTION TO METTA INTERVIEW.
LAKERS CALLS. PLAYED MS. EVELYN SOUND RECAPPING HORNETS / LAKERS
WHAT WAS THE BIG TAKEAWAY FROM LAST NIGHT'S WIN. KOBE & DWIGHT
PLAYED SOME KOBE SOUND POST-GAME TALKING ABOUT LAST NIGHT'S GAME.
DISCUSS THE LAKERS AND HOW BOXING IS A LOT ALIKE. HE TALKS ABOUT HIS FAVORITE BOXING EVENT.
PLAYED KOBE & DWIGHT HOWARD SOUND.
TALK LAKERS AND THE BEST PLAYERS IN THE LEAGUE RIGHT NOW.
DISCUSS THE UPCOMING LAKERS SCHEDULE VS. TORONTO, CHICAGO, ORLANDO, INDIANA. DISCUSS DWIGHT HOWARD'S COMMENTS HE MADE ABOUT HIS FORMER TEAMMATES IN ORLANDO.
DISCUSS DWIGHT HOWARD'S COMMENTS.
CROSSTALK WITH BETO DURAN & JAY FROM COMPTON
Subscribe on iTunes!
MAX & MARCELLUS ON DEMAND
Don't miss a minute of Max & Marcellus! Listen back to each hour of every show.
MAX & MARCELLUS ON FACEBOOK

Where EVERY Lakers game is on the radio
LISTEN LIVE
to our pre and post-game shows
LISTEN LIVE ON ESPNLA.COM


All Times PT On-Air » Streaming »
WEEKDAY LINEUP

YOU CAN'T LOOK AWAY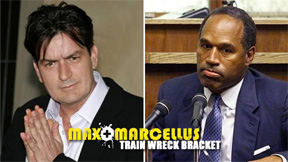 The Train Wreck Bracket came down to Chaz Sheen versus O.J. Who prevailed in the final showdown of sports and celebrity catastrophes? Complete Bracket »