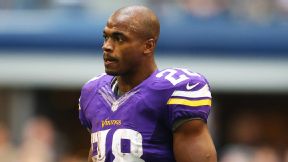 Matthew Emmons/USA TODAY SportsColin will cover Adrian Peterson's future.
Colin Cowherd will be joined by ESPN NBA Insider Brian Windhorst (10:30 a.m. ET), former NFL QB Chad Pennington (11:15) and ESPN NFL analyst Herm Edwards (12:15 p.m.) on Friday.
As always, email the show (theherd@espnradio.com) or tweet us at twitter.com/theherd -- we'll be with you from 10 a.m. to 1 p.m. ET on ESPNU, ESPN Radio and ESPNRadio.com.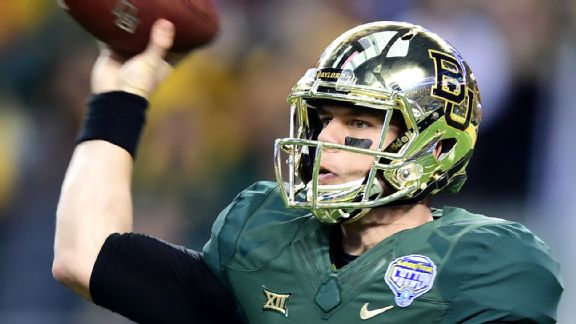 Allen Kee/ESPN ImagesMNF's Jon Gruden delves into Bryce Petty's performance at combine and much more.
Monday Night Football's Jon Gruden talks about the development of his popular quarterback camp, less complex offenses in the NFL, QB draft prospects and much more. Gruden

ESPN NFL analyst Jeff Saturday explains why he dislikes the NFL combine, talks about his first encounter with Peyton Manning, the lack of greats in the NFL and more. Saturday

Fox Sports' Joel Klatt shares his top draft prospects, his thoughts on the NFL combine and his evaluations of Marcus Mariota, Jameis Winston and Brett Hundley. Klatt

Actor Matthew Perry gives insight on his new series The Odd Couple, talks about his previous role on the sitcom Friends and share his thoughts on the L.A. Kings. Perry

Colin Cowherd shares his thoughts on MLB's new pace-of-play rules, David Ortiz's sentiments about the changes and the biggest issues baseball faces. Listen

Colin gives his takes on David Ortiz's criticism of MLB's new pace-of-play rules and more.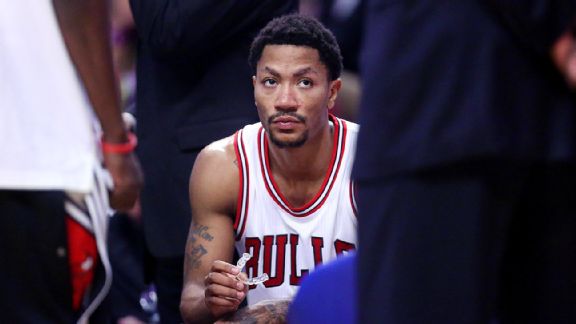 Dennis Wierzbicki/USA TODAY SportsESPN Chicago.com's Nick Friedell shares how the fans are reacting to D. Rose's torn meniscus.
ESPN Chicago.com's Nick Friedell delves into Derrick Rose's injury, if the Bulls are title contenders without Rose, the fans' reactions to losing Rose yet again and why Jimmy Butler may not be able to fill Rose's shoes. Friedell

ESPN CBB analyst Shane Battier reacts to the Derrick Rose injury and talks about playing alongside LeBron James, Rajon Rondo being benched and the NBA playoff picture. Battier

Grantland's Bill Simmons gives insight on his interview of Kobe Bryant, Bryant's perception of Russell Westbrook, the Bulls' future without Derrick Rose, basketball analytics and more. Simmons

ESPN NFL analyst Mark Brunell shares his thoughts on Bryce Petty's performance at combine, Marcus Mariota's athleticism, Jameis Winston's football IQ, how Brett Hundley may have hurt his stock at the combine and more. Brunell

Colin Cowherd shares his thoughts on the outlook for the Bulls in light of Derrick Rose's latest injury, Rose's style of play and Jimmy Butler's abilities. Listen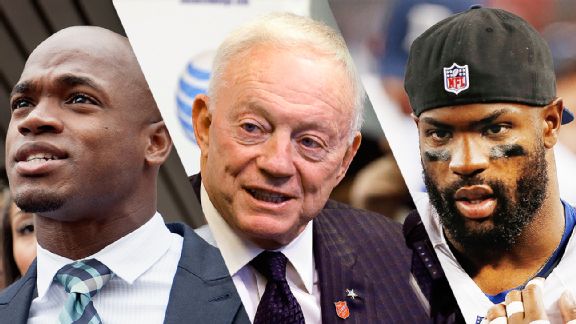 Getty ImagesNFL reporter Ed Werder covers if A.P. will stay in Minnesota and if the Cowboys have interest in the RB.
ESPN NFL reporter Ed Werder covers Adrian Peterson's likelihood to stay with the Vikings, the options for the Cowboys' in regards to WR Dez Bryant and the Seahawks' offseason concerns. Werder

Sports Illustrated's Peter King weighs in on what the Buccaneers will do with the No. 1 pick in the NFL draft, where Marcus Mariota will land, the popularity of the combine and more. King

ESPN NBA Insider Chris Broussard delves into the Cavaliers adding Kendrick Perkins to their roster, if the Thunder are serious title contenders, the trend of player collaboration to chase championships and more. Broussard

ESPN CBB analyst Jay Bilas shares his thoughts on court storming after upsets, the plausibility of freshmen ineligibility and the chance Kentucky gets knocked out in the NCAA tournament. Bilas

Colin Cowherd shares his thoughts on the Yankees' relationships with star players and the ringside seats policy for the fight between Floyd Mayweather Jr. and Manny Pacquiao. Listen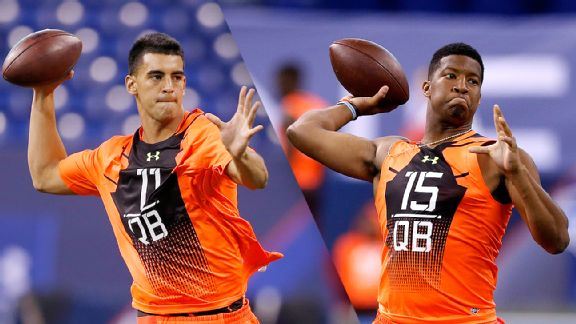 AP Photo, Getty ImagesSuper Bowl champion Drew Bledose covers the accuracy of prospects Marcus Mariota and Jameis Winston.
Super Bowl XXXVI champion Drew Bledsoe covers what teams can learn about QBs at the NFL combine, Jameis Winston's weight, the accuracy of Winston and Marcus Mariota and transitioning to the league. Bledsoe

ESPN NFL Insider Chris Mortensen evaluates Marcus Mariota's and Jameis Winston's performance at the NFL combine, Dez Bryant's future with the Cowboys, if Ndamukong Suh wants to stay in Detroit and more. Mortensen

ESPN NBA analyst Tim Legler talks about Kobe Bryant's stance on recruiting teammates, Kendrick Perkins joining the Cavaliers, the Warriors chance at an NBA title and more. Legler

Colin Cowherd shares his thoughts on which team will win the NBA championship, LeBron James' willingness to recruit other players and the state of the Cavaliers.. Listen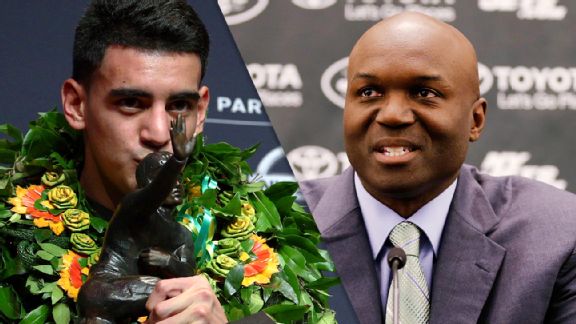 USA TODAY SportsNFL reporter Sal Paolantonio shares whether or not the Jets have interest in drafting Marcus Mariota.
ESPN NFL reporter Sal Paolantonio reports from the NFL combine on Jameis Winton's discipline, Marcus Mariota's interview, whether or not Jets coach Todd Bowles has interest in Mariota and more Paolantonio

ESPN NFL analyst Darren Woodson discusses his dislikes of the NFL Scouting Combine and whether or not the Cowboys should use the franchise tag on WR Dez Bryant. Woodson

Writer Chuck Klosterman Writer Chuck Klosterman breaks down his interview with Kobe Bryant for GQ Magazine and talks about Bryant's personality and transparency during the interview. Klosterman

Rockies P John Axford weighs in on the upcoming 87th Academy Awards by predicting the winners of the five major categories. Axford

Colin Cowherd shares his thoughts on NBA trade deadline action, Michael Carter-Williams' abilities and Danica Patrick's confrontation with Denny Hamlin. Listen

PHOTO GALLERIES
Check out the highlights of our great visit to ESPN The Weekend.

The Herd's Rose Bowl adventure. Check it out!
PODCASTS
A daily dose of the best of The Herd with Colin Cowherd.