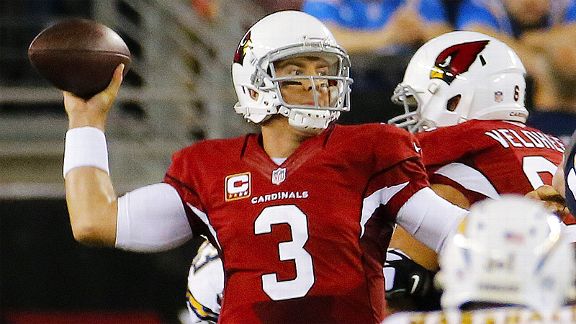 AP Photo/Matt YorkCardinals QB Carson Palmer tells Colin about Seahawks coach Pete Carroll's ability to inspire players.
Cardinals QB Carson Palmer shares his thoughts on playing under Pete Carroll at USC, Bruce Arians' performance as head coach for the Cardinals and more.Palmer

Football Today »
Bills coach Rex Ryan talks about leaving the Jets, mistakes he made in New York, what he plans to impletement in Buffalo and more. Ryan

WHTR.com's Bob Kravitz shares the latest on Deflategate and gives insight on how the players and fans in Indianapolis are reacting. Kravtiz

ESPN NFL analyst Trent Dilfer breaks down the difference in coaching techniques between Bill Belichick and Pete Carroll and the culture of winning both coaches bring to their respective teams. Dilfer

Colin Cowherd shares his thoughts on the Seahawks' remarks about HGH testing and Josh Gordon's open letter to Charles Barkley, Stephen A. Smith, Cris Carter and other critics. Listen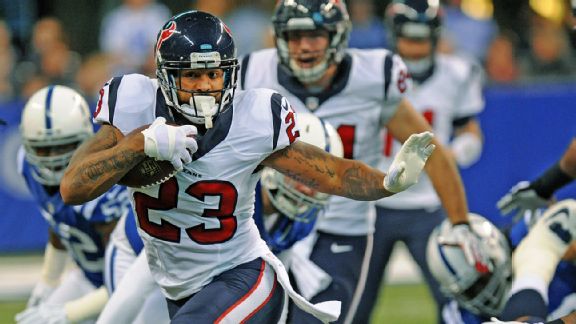 Thomas J. Russo/USA TODAY SportsTexans RB Arian Foster shares his thoughts on NFL players who leave their teams for higher pay.
Texans RB Arian Foster discusses the mental aspects of playing with injury, Richard Sherman's strong opinions, where he believes a player's loyalty should lie and more. Foster

Football Today »
Saints QB Drew Brees talks about his taste in music, his career path had he landed in Miami, what winning Super Bowl XLIV meant for the city of New Orleans, shares his thoughts on Russell Wilson and more. Brees

Pro Football Hall of Famer Dan Marino talks about the state of Dolphins, his beliefs on players choosing money over team loyalty, the lack of longevity in football and more. Marino

NFL Films' Greg Cosell breaks down the film on the Seahawks' defense, the Patriots' offense and shares his thoughts on how close he believes the score of the Super Bowl will be. Cosell

ESPN NFL analyst Herm Edwards weighs in on the Patriots' defense, talks about how he would cover Russell Wilson and discusses the role Tom Brady will play in the outcome of the game. Edwards


Colin Cowherd talks about his pick for Super Bowl XLIX and why he thinks Tom Brady ranks as the greatest QB of all time if the Patriots beat the Seahawks. Listen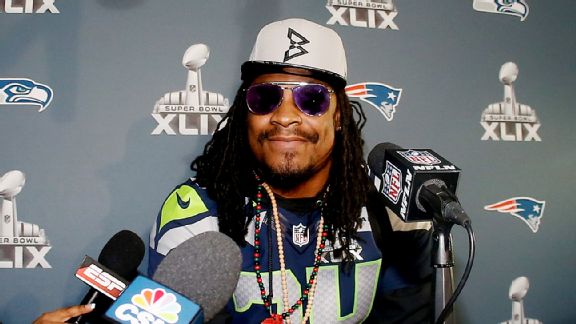 Christian Petersen/Getty ImagesChris Mortensen tells Colin about Marshawn Lynch's appearance at Super Bowl media day and more.
ESPN NFL Insider Chris Mortensen discusses the Patriots' future at the QB position, Deflategate, Marshawn Lynch's appearance at Super Bowl media day and Pete Carroll's style of coaching. Mortensen

Football Today »
ESPN NFL analyst Damien Woody shares his thoughts on preparing for his first Super Bowl, Tom Brady's evolution, Brady's future with the Patriots and Deflategate. Woody

Four-time Super Bowl champion Bill Romanowski offers his insights on Deflategate, the Patriots' offense, Russell Wilson's intelligence, Bill Belichick's standards and the Seahawks' toughness. Romanowski

Colin discusses Marshawn Lynch's Super Bowl media day appearance, the NFL's collective bargaining agreement and Bill Belichick's relationship with Jerod Mayo. Listen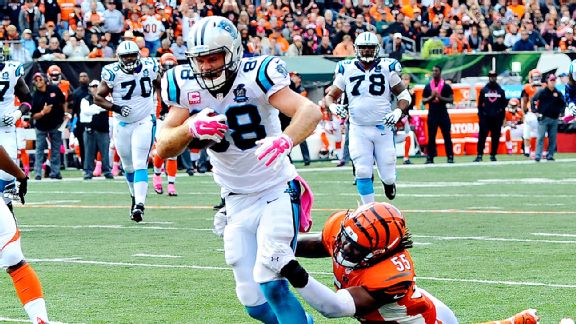 David T. Foster, III/Getty ImagesPanthers TE Greg Olsen shares some tips for matching up against the Seahawks' defense.
Panthers TE Greg Olsen shares his thoughts on Rob Gronkowski, facing Seattle, the Seahawks' trash talk on the field, Kam Chancellor and more. Olsen

Bears TE Martellus Bennett talks about his ventures outside of football, defenses that play aggressively, Michael Bennett and more. Bennett

Pro Football Hall of Famer Howie Long shares his thoughts on the difficulty in preparing for the Patriots and the physicality of Seattle's Kam Chancellor. Long

Sports Illustrated's Peter King weighs in on Bill Belichick's mindset throughout the Deflategate saga, the health of both the Patriots and Seahawks and more. King

Colin Cowherd shares his thoughts on how the NFL benefits from Deflategate and the criticism the league has received following its off-field incidents this season. Listen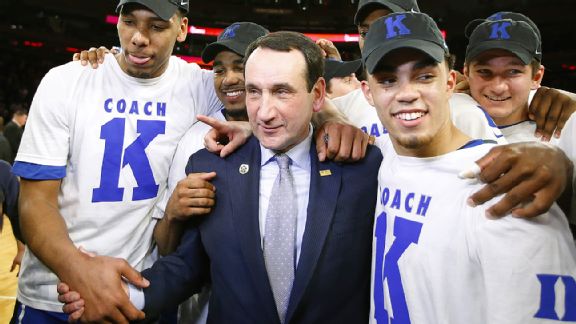 AP Photo/Kathy WillensCBB Insider Jeff Goodman shares insight on Coach K winning his 1000th career game Sunday.
ESPN CBB Insider Jeff Goodman shares his thoughts on Duke coach Mike Krzyzewski reaching his 1,000th win, the coaching style of Coach K, recruiting tactics of John Calipari and more Goodman

ESPN NFL analyst Bill Polian talks about how Deflategate questions the integrity of the game, the rationale behind preparing the football, previews Super Bowl XLIX and more. Polian

NBC Sports' Al Michaels talks about where the deflategate topic fits in the discussion during the Super Bowl, conversation decorum in broadcasting, the hype surrounding SB XLIX and more. Michaels

Yahoo Sports' Jeff Passan discusses baseball's refusal to change defensive shifts and the idea that the MLB is incapable of changing its rules. Passan

ESPN NFL analyst Ron Jaworski shares his thoughts on football inflation being preferable to the quarterback and how coaches like Pete Carroll and Bill Belichick push the competitive edge. Jaworski

Colin Cowherd reacts to Bill Belichick's remarks regarding the process the Patriots use to prepare footballs for play and Richard Sherman's comments about Deflategate. Listen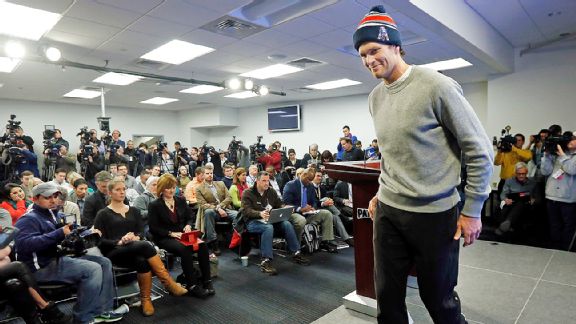 AP Images/Elise AmendolaColin weighs in on Tom Brady's remarks and involvement in Deflategate in his 'Opening Rant'.
ESPN NFL reporter Sal Paolantonio offers his insights on Tom Brady's football preferences, Brady's motivations to address Deflategate and whether the situation will distract the Patriots. Paolantonio

Boston Globe's Bob Ryan discusses Patriots fans' reaction to Deflategate, Robert Kraft's sentiments about the situation, Bill Belichick's job security and Tom Brady's remarks to the media. Ryan

Pac-12 Network Yogi Roth discusses his relationship with Pete Carroll, the culture of winning that Carroll builds, similarites between Carroll and Bill Belichick and more. Roth

2004 Heisman Trophy Winner Matt Leinart shares his thoughts on football inflation being preferable to the quarterback and how coaches like Pete Carroll and Bill Belichick push the competitive edge. Leinart

Colin Cowherd shares his thoughts on Deflategate's impact on the NFL's image and ratings, Tom Brady's involvement in the situation and the Patriots' reputation. Listen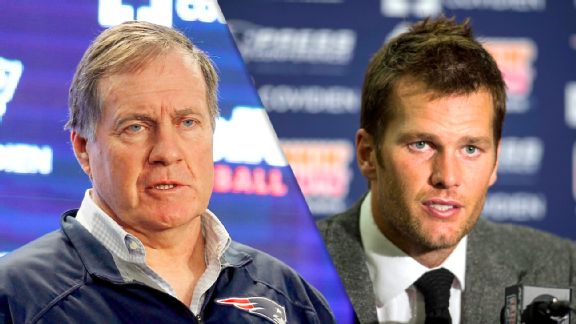 USA TODAY SportsESPN's Danny Kanell responds to Bill Belichick's statement and questions if Tom Brady played a role.
ESPN NFL Front Office Insider Louis Riddick discusses Russell Wilson's ability and impact on a game and shares this thoughts regarding Bill Belichick and the Patriots' reputation. Riddick

ESPN CFB Danny Kanell comments on the Bill Belichick press conference, provides his advantages of using an underinflated football and more. Kanell

NFL Films' Greg Cosell breaks down the film on the Colts in the AFC title game, the Packers' meltdown in the NFC Championship and discusses how the Patriots' offense will match up against the Seahawk's defense. Cosell

ESPN NBA Insider Brian Windhorst talks about the Bulls' struggles and what that means for Tom Thibodeau, the Cavaliers' chemistry since the trade and the Clippers' management under Doc Rivers. Windhorst

Jorge Sedano shares his thoughts on Bill Belichick's remarks about the underinflated footballs at the AFC title game and the Patriots' reputation. Listen

PHOTO GALLERIES
Check out the highlights of our great visit to ESPN The Weekend.

The Herd's Rose Bowl adventure. Check it out!
PODCASTS
A daily dose of the best of The Herd with Colin Cowherd.