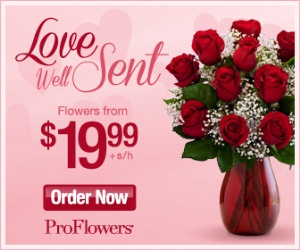 Valentine's Day is almost here! If you're running late, do not fear, because ESPNLA and ProFlowers are teaming up to give away a ProFlowers Gift Card!
Just LISTEN all this week to Mason and Ireland between 12-3 p.m. for your chance to win a $50 gift card.
ProFlowers offers a huge selection of gorgeous flowers, chocolate covered strawberries and more for as low as $19.99! Make your Valentine's Day memorable by treating your loved one to special gifts from ProFlowers.
To get amazing deals on flowers and gifts, just to go to www.proflowers.com, click on the microphone on the top right and type in the code 710AM!