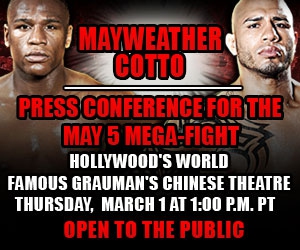 One of the most anticipated fights of the year is almost here! Floyd "Money" Mayweather takes his undefeated record to Las Vegas to challenge Miguel Cotto for his junior middleweight title on May 5. Head to the world famous Grauman's Chinese Theatre in Hollywood this Thursday March 1 at 1 p.m. and catch the two great fighters face each other at the press conference!
Click the "register now" button below to enter for a chance to win a boxing glove signed by Floyd "Money" Mayweather and Miguel Cotto!

If you're not already a member of the 710 ESPN VIP Club, click here to sign up now. It's free and easy to join, and once you're a member, you're just one click away from every contest we have at ESPNLA.com!
---
Mayweather vs. Cotto - Fight Overview
Floyd Mayweather Jr. and Miguel Cotto are scheduled to meet in a boxing match at the MGM Grand in Las Vegas on May 5, 2012. Mayweather (42-0, 26 KO) and Cotto (37-2, 30 KO) will be fighting at 154 pounds for Cotto's WBA Super Welterweight title. It will be Mayweather's second career fight at super welterweight. [Read More]
---
Deadline for entry in this contest is 3/1/2011 at 11:59pm PT