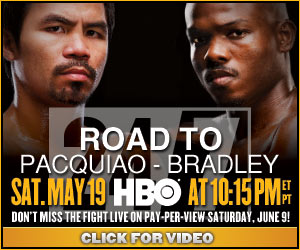 One of boxing's biggest stars, reigning champion Manny "Pac Man" Pacquiao enters the ring with Palm Springs' own, the undefeated Timothy Bradley for Pacquiao's welterweight title on June 9 in Las Vegas.
Click the "register now" button below to enter for a chance to win a HBO 24/7 warmup jacket featuring Manny Pacquiao and Timothy Bradley!

If you're not already a member of the ESPNLA 710 VIP Club, click here to sign up now. It's free and easy to join, and once you're a member, you're just one click away from every contest we have at ESPNLA.com!

---
Deadline for entry in this contest is 6/8/2012 at 11:59pm PT