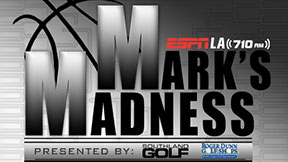 Let the madness begin! We're challenging YOU to take the "Mark's Madness" college basketball bracket challenge!
The top 3 listeners with the highest score will be part of Mark's foursome to play a round of golf at Strawberry Farms Golf Club, compliments of Southland Golf.
SIGN UP FOR MARK'S MADNESS NOW: Mark's Madness
That's not all! The listener with the highest score will also get a $500 Gift Card, 2nd & 3rd place will get a $250 Gift Card, all courtesy of Roger Dunn Golf Shops!
The three (3) highest-scoring contestants at the end of the tournament (April 8, 2013) win!
Deadline to enter contest is the beginning of the first game of the tournament, March 19, 2013.