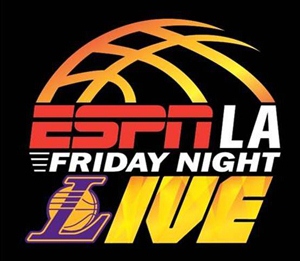 Laker fans, here is an event just for you! Get pumped up before tip-off by joining the Laker pre-game festivities located at L.A. Live!
Before the Lakers play on Fridays at Staples Center, celebrate the purple and gold as Max & Marcellus broadcast LIVE from the Nokia Plaza. Stop by to win Lakers tickets for Friday's game! Meet Lakers greats and the Laker Girls and take pictures with the Larry O'Brien Championship Trophy! No ticket? No problem! All the action starts at 3 p.m.! Subject to weather.
Check out our photo gallery to see what you missed at our last Friday Night Live!
Dates and times are subject to weather.