Commentary
David Beckham's MLS legacy grows
Of all that was expected of him with the Galaxy, the icon's checklist is near complete
Updated:
November 2, 2011, 8:38 PM ET
By
Scott French
| Special to ESPNLosAngeles.com
CARSON, Calif. -- The fanfare that greeted David Beckham's arrival in Los Angeles not quite 4 1/2 years ago was deafening, amplified by talk of that $250 million contract (hardly!), the Hollywood pals popping up in Home Depot Center's private boxes (Tom and Katie!) and the paparazzi clicking away at late-night treks to In-N-Out Burger.
The expectations accompanying the English superstar's signing with the Los Angeles Galaxy were even bigger, painting him as a savior for American soccer who could (and would) make the sport as big in the U.S. as it is in most of the rest of the world.
They were lavish ideas, many beyond reason, but here's the thing: Throw out the ridiculous conjecture -- no, soccer isn't as big as the NFL, baseball or the NBA (and Beckham couldn't cure cancer either) -- and take stock after five seasons of varying length, and nearly everything on his checklist has been accomplished.
There's what's measurable -- jerseys sold, fans in seats, sponsorship and TV dollars, expansion and stadium construction, the Galaxy's success -- and it's certainly impressive, but the search for Beckham's true legacy leads to this: What he has done, more so than anything else, is positioned Major League Soccer for something really big.
Beckham's five-year, $32.5 million contract with MLS and the Galaxy expires at season's end, which could come as early as Thursday night, when L.A. takes on the New York Red Bulls at Home Depot Center in the second leg of a home-and-home, total-goals, first-round playoff series. The Galaxy won the first leg, a 1-0 decision Sunday afternoon in Harrison, N.J., and are looking to advance to Sunday's Western Conference final, which would be played in Carson, and on to the Nov. 20 MLS Cup title game, also set for HDC.
[+] Enlarge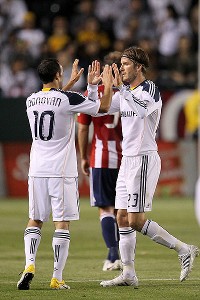 Stephen Dunn/Getty ImagesLandon Donovan, left, says of David Beckham's arrival in MLS: "At that time, there wasn't another player who could have that impact. I mean, who knows where we would be without him."
The midfielder with the cultured right foot, now 36, hasn't divulged whether there will be a sixth season in America. The decision, he has said since the current campaign began in March, will be made once the last ball of 2011 has been kicked. If this is it -- if he's ready for a new adventure in London or Paris or some outpost that needs what he can offer -- how will his impact on American soccer, America's league and America's top club be judged?
"There's certain quantifiable measures, like ratings, attendance -- just the number of people we see when we're out, people that know about Major League Soccer now because of him, know the name L.A. Galaxy because of him," said U.S. star Landon Donovan, the Galaxy's captain and Beckham's primary on-field ally. "And then there's the kind of intangible things that probably remain to be seen for a while.
"Awareness is a hard thing to gauge, because you can't always put it into numbers all the time. But raising that, raising the profile of our league, raising the level of awareness are things that will forever be changed."
It's primarily about awareness and credibility -- in this country, to be sure, but more so abroad, where soccer isn't just king, but also queen, duke and prime minister. MLS was heading into its 12th season when AEG president Tim Leiweke and his cohorts began convincing Beckham, the sport's biggest name, that the Galaxy would be the best fit following celebrated stints with Manchester United and Real Madrid, two of the world's most visible clubs.
MLS was a nobody on the world scene, a third-tier outfit that registered on foreign radar, fairly or not, as little more than a repository for a handful of aging, largely disengaged stars (most of them in New York, most of them failures, none more disdained than German legend Lothar Matthaeus) and was dismissed as a league that rewarded athleticism over skill and thought.
The profile at home wasn't all that much higher. The mainstream media all but ignored the league, only the Galaxy and FC Dallas were making a profit, and the passionate circle of hard-core support around each club was modest, at best.
Since Beckham signed in January 2007, MLS has:
• Seen the debut of six clubs, with a seventh, in Montreal, coming aboard next season (and several communities jockeying for franchise No. 20 as expansion fees are expected to surge well past $50 million).
• Brought online eight new or renovated stadiums (a ninth is set to open next year in Houston, and San Jose wants its new facility in place in 2013).
• Added eight years for a reported $200 million to its sponsorship deal with adidas.
• Signed a three-year television deal with NBC (worth $10 million, according to Sports Business Daily) to complement pacts with ESPN and Spanish-language giant Univision.
• Lured several big-name stars still in or near their primes (including teammate Robbie Keane and New York's legends Thierry Henry and Rafa Marquez), with more big names snooping around for possibilities.
• Seen attendance spike to record numbers (averaging 17,844 this season) while tapping into the Pacific Northwest's vibrant soccer culture and the massive following Seattle's Sounders enjoy (their average crowd: 38,496).
Soccer Blog

Scott French covers the Southern California soccer scene and beyond for ESPNLA.com.
Football Futbol Soccer »
There's a buzz, here and abroad, that things are really starting to take off. There's a lot more to that, of course, than Beckham -- MLS's ownership includes Phil Anschutz (Galaxy and Houston), Paul Allen (Seattle), Red Bull (New York), top Arsenal shareholder Stan Kroenke (Colorado), Lamar Hunt's heirs (FC Dallas and Columbus) and New England Patriots owner Robert Kraft (New England) -- but give the man his due.
"Without David Beckham, MLS is not the league it is today," said Don Garber, the former NFL international chief who in 12 years as MLS commissioner has shepherded the league from infancy to adolescence. "People will look back on the history of the league, and I think David coming in 2007 is one of the key moments in the development of MLS 2.0.
"Coming right after that, we've got [the huge success in] Toronto, new TV deals, the adidas contract -- all these things work together. I think [Beckham's arrival] is clearly one of the seminal moments in the history of the league. It helped establish credibility, broaden awareness and take us to the next stage in our development."
A pivotal benefit of Beckham's arrival was the roster mechanism that enabled the Galaxy to sign him. The so-called "Beckham Rule" permits clubs to bring in, now, up to three "designated players" at market cost, with only a portion of their contracts counting against the $2.675 million salary cap.
That has led to the acquisitions of Henry, Marquez and Keane, Toronto FC's German midfielder Torsten Frings, plus a number of lesser-known, largely Latin American players of advanced skill who have lifted the level of play -- and provided sparkling skill to lay waste to the all-running-and-no-touch complaints.
"Now casual fans and, more importantly, people who are making decisions in Europe in the soccer world are watching our league more closely and saying, 'Wow, there's more players here,' " Donovan said. "When they get insight from David echoing those sentiments, they take it seriously. When you have guys like Henry come here, Marquez come here and say these are good players [in MLS], other people around the world are taking notice."
Europe opened pipelines to and especially from MLS, and that has drawn rising talent from, especially, South America that sees the league as a worthy catapult to European riches. The product gets stronger, that draws new fans, they find the electric atmosphere in some MLS stadiums most invigorating, and the cycle feeds off itself. That's how it has started; there's still far to go.
"I think the league has made a lot of progress in five years," said Galaxy head coach and general manager Bruce Arena, an MLS original who guided the U.S. national team in the 2002 and 2006 World Cups. "I think it's more progress than many of us would have thought. … There needs to be some patience. One day it's going to be one of the best leagues in the world, there's no question about that in my mind."
Why Beckham? He is a brand in himself, revered worldwide, celebrated as a fashionista (credit to his wife, Victoria, the former Posh Spice and now a fashion designer), reaping some $40 million annually through endorsements, investments and enterprises, including his own cologne and an underwear line. He's handsome and charismatic, the biggest celebrity in a world gone mad over celebrity and -- this is key -- a decent, down-to-earth chap when you meet him.
He's also single-minded in his devotion to his craft and commitment to the game, and he has brought an everyman quality -- along with that terrific right foot -- to his play with L.A., especially after Arena arrived in 2008 to restore the ailing club to its rich standards. He did so despite nearly constant injury (and two loan spells to Italian giant AC Milan, in pursuit of a 2010 World Cup role cut short by a torn Achilles' tendon).
[+] Enlarge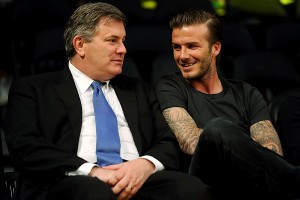 Harry How/Getty ImagesAEG president Tim Leiweke, left, says he wants David Beckham to win trophies because it's important for Beckham's legacy.
"There's other guys who came and, quote, wanted to play here, but I don't think they meant it in the same way [Beckham did]," Donovan said. "He's a guy who was still in the prime of his career, had a bevy of other options, and he decided he wanted to do this. I don't think there's any other player who could have that impact -- maybe now with Cristiano Ronaldo or [Lionel] Messi. But at that time, there wasn't another player who could have that impact. I mean, who knows where we would be without him."
This has been Beckham's first full season with the Galaxy, and his impact has been profound. The service he provides -- from any angle or distance, with bend that can destroy opposing defenses -- is what sets L.A. apart from the rest of the field, along with its superb defensive approach. It has led to a second successive Supporters' Shield as regular-season champion (and league MVP talk for Beckham) and another shot at the elusive MLS Cup crown.
That's what's missing from Beckham's legacy.
Off the field, he says, he's accomplished everything he's set out to do: "Hopefully, taking the sport to a different level. I always said when I arrived, it's not going to happen in one or two years, but in five years there's a lot that's happened. A lot of teams have come into the league, a lot of new franchises and new stadiums built around the country. I'm proud to have been part of that."
But?
"I want to win something with the Galaxy. I feel [my time here] has been such a success in the sport in general, but I want to be a success with this team. I care about this team. I'm proud to be part of this franchise, but I want to win something with them. ... I want a championship. Simple as that."
That's why the 31-year-old Keane -- the Irish national team's current captain and all-time leading scorer -- is in L.A., Leiweke says.
"I want David to win trophies. I think it's important for his legacy," Leiweke told ESPN Los Angeles after presenting the Irish forward to an HDC gathering in August. "Clearly, this was done in mind for putting a good end to the book whenever the end comes for David."
Leiweke has been confident since summer that Beckham would return -- "David and I talk a lot," he said. "David and I have been in lockstep for five years" -- and last week told Sports Illustrated that he believes "David will be here again next year. People can make any offer they want. The loyalty he has to this club because of the way we have treated him and stood by him is going to be rewarded if we so choose to continue with David."
He has options. Qatari-owned French giant Paris Saint-Germain is aggressively pursuing Beckham. And there's Tottenham, the North London club Beckham's grandfather supported, which has been angling for his services since he trained with them last winter. Others in England, on the continent, around the world have baited their hooks.
Beckham isn't biting yet, but is it a hint when he says his family comes first, that they love L.A. -- his sons, 12, 9 and 6 years old have spent much of their lives here, his infant daughter was born here, his wife's fashion career is based here -- and that "everyone's been great from the moment that we arrived, everyone's been so friendly and accommodating"?
"I can definitely see that situation [returning to L.A.]," he says. "I'm happy at this club. I consider the Galaxy to be my family, and it's always been and will continue to be."
Might be more to be made of that legacy.
Scott French covers soccer for ESPNLosAngeles.com.