Tony Stewart out of another race
Updated:
August 12, 2014, 1:34 PM ET
ESPN.com news services
Tony Stewart, who didn't compete in Sunday's NASCAR Sprint Cup race after he struck and killed sprint car driver Kevin Ward Jr. during a race the night before, also pulled out of an upcoming dirt track race in Plymouth, Indiana.
More from ESPN.com

Tony Stewart's love for grassroots racing almost cost him his career a year ago. That same love resulted in the death of a young racer in upstate New York on Saturday night, Ed Hinton writes. Story
---
Marty Smith and Ryan McGee discuss the Tony Stewart and Kevin Ward Jr. tragedy that took Ward's life, why social media has made this situation so frustrating, if NASCAR should implement a rule about drivers leaving their vehicles and more. PodCast
"We at Plymouth Speedway extend our deepest condolences and prayers to the family of Kevin Ward Jr. and thoughts and prayers to Tony Stewart and his family. Tony Stewart will not be racing at Plymouth Speedway this Saturday. More information on the weekend's racing will be announced this week," the track said in the statement.
There was no immediate decision if Stewart would drive in this weekend's NASCAR race at Michigan International Speedway.
Stewart "will have as much time as he needs to make that decision,'' spokesman Mike Arning said Monday. "It is still an emotional time for all involved, Tony included. He is grieving, and grief doesn't have a timetable.''
Ward was struck Saturday after he climbed from his car and was on the track trying to confront Stewart during a race in upstate New York. Ward, 20, was pronounced dead Saturday night at a hospital in Canandaigua.
Stewart is not currently under criminal investigation, but Ontario County Sheriff Philip Povero said on Monday that the investigation remains open. He said that at this time "there no facts that exist that support any criminal behavior or conduct, or that any probable cause of a criminal act, in this investigation."
Povero said the Ontario County Medical Examiner's office ruled Ward's cause of death as massive blunt trauma, but no further information was released regarding the autopsy.
The Herd with Colin Cowherd
Colin Cowherd responds to a fan's message about the incident that resulted in Kevin Ward Jr.'s death and covers the culture of racing.
Authorities talked to the three-time NASCAR champion Saturday night, and again Sunday, concerning the death of a fellow driver during a dirt-track sprint-car race. Povero said Monday there were no plans "at this time'' to talk to him again.
There is no timetable to complete the investigation.

A video of the crash at Canandaigua Motorsports Park showed Ward, wearing a black helmet and firesuit on a dimly lit track, walking toward Stewart's car before being hit and hurtled 50 feet. Povero said the 25-lap race was under caution when Ward was struck. Stewart's car was behind another before he hit Ward.
The accident came just four days after the one-year anniversary of an accident in a sprint car race in Iowa in which Stewart suffered a compound fracture to his right leg. The injury cost him the second half of the NASCAR season.
The Canandaigua track, about 30 miles southeast of Rochester, canceled the remainder of Saturday's race within five minutes and later posted a message on its Facebook page encouraging fans to "pray for the entire racing community of fans, drivers, and families."
[+] Enlarge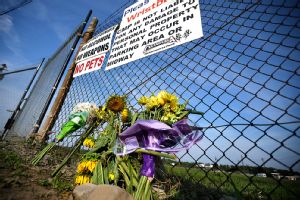 AP Images/Mel EvansA small memorial has sprung up at the track where Kevin Ward Jr. was struck and killed by Tony Stewart on Saturday night.
The track also canceled Wednesday's race. Track promoter Jeremie Corcoran said he was "devastated" by the incident in a statement released Monday.
"I have made the decision to cancel our upcoming 'Whacko Wednesday' event on Wednesday August 13th at Canandaigua Motorsports Park to give my family, staff, fans, and racing teams time to grieve and process all that has occurred," Corcoran continued in the statement. "I will let everyone know about next weekend as soon as I can."
Stewart, who was unhurt in the accident, released a statement Sunday afternoon.
"There aren't words to describe the sadness I feel about the accident that took the life of Kevin Ward Jr. It's a very emotional time for all involved, and it is the reason I've decided not to participate in today's race at Watkins Glen. My thoughts and prayers are with his family, friends and everyone affected by this tragedy," it said.
Stewart was involved in a July 2013 accident at Canandaigua that seriously injured a 19-year-old driver. Stewart later took responsibility for his car making contact with another and triggering the 15-car accident that left Alysha Ruggles with a compression fracture in her back.
Stewart returned to sprint track racing only last month. He didn't return to racing in any form until February, when preparation for NASCAR's season-opening Daytona 500 began.
He refused to stop his extracurricular racing despite the injury. The multimillionaire is known to participate in races with purses worth less than $3,000 and drive alongside drivers of varying ages and talent levels.
Stewart was a spectator at the Knoxville Nationals in Iowa on Tuesday, the one-year anniversary of the accident, and posted on his Twitter account: "Thank you to everyone that worked so hard to get me back to where I'm at today. It's your life, live it!"

Memorial services for Ward will be held Wednesday at the Trainor Funeral Home in Boonville, New York. The funeral is Thursday.
Information from ESPN.com's Brant James and The Associated Press is included in this report.