Commentary
Jerry Buss: 'I love winning!'
Originally Published:
February 18, 2013
By
J.A. Adande
| ESPN.com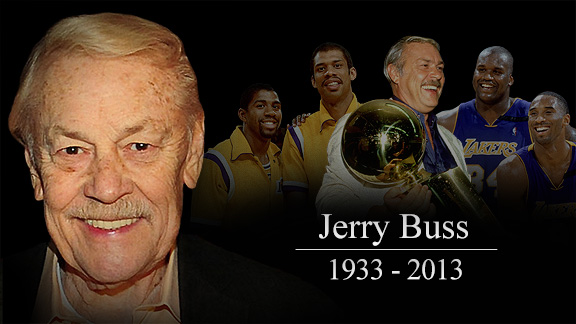 ESPN.com Illustration
You know how when someone dies we like to comfort ourselves by saying, "He's in a better place now"?
That saying isn't as necessary for Jerry Buss, the longtime Lakers owner who passed away Monday.
Buss was always in a better place.
Perhaps other team owners would get an invitation to a party at a friend's house in their honor when they won a championship. In Buss' case, it came from Hugh Hefner at the Playboy Mansion.
Whenever I interviewed Buss on the phone he would be somewhere enviable. When I was in Indianapolis for the 2000 NBA Finals he was at his Southern California beach house. On another occasion he was in Hawaii.
When the team was crumbling in the summer of 2004, with the greatest basketball coach of all time dispatched and the greatest center of his era shipped to Miami, Buss was in Italy, where he reported, "The pasta's great and the wine's flowing freely."
Why worry? The Lakers always came back, they would always prevail. They had Kareem Abdul-Jabbar and Magic Johnson when Buss bought the team, the NHL's Kings and their home arena, the Forum, in 1979. They won right away and kept on winning, adding James Worthy in 1982 and Mychal Thompson in 1987 to give them four players who had been drafted No. 1 overall.
In 1996, within a span of less than six weeks, the Lakers acquired Kobe Bryant and Shaquille O'Neal, who developed into one of the best tandems the NBA has ever seen.
The summer of 2004 was a blip. The subsequent season, in which they missed the playoffs, marked only the second time the Lakers were home for the postseason during Buss' ownership. Then, on Feb. 1, 2008, they traded for Pau Gasol, and they were on their way back to the NBA Finals for a three-year residency.
During Buss' ownership they showed up at the Finals almost as often as David Stern. Pass the pasta and fill up the glass.
Don't confuse Buss' distance with disinterest. He felt better served by watching the games from halfway up the arena, rather than courtside, because the higher vantage point allowed him to see the plays and patterns of the game unfold. As for his occasional decision to, say, stay out West and hop over to Las Vegas rather than watch the Lakers in the Finals because he couldn't think of anything fun to do in Indianapolis, ask yourself what you'd rather have as a fan: an owner who watches his team in the NBA Finals or an owner who consistently gets his team to the NBA Finals?
The Lakers went to the NBA Finals 16 times in Buss' 33 years as owner -- about once every two years, on average. For Buss, wait 'til next year wasn't a lament, it was a promise.
He won with Magic and Kareem, he won with Shaq and Kobe, he won with Kobe and Gasol. He won with Jerry West as general manager and with Mitch Kupchak as the GM. He won with Paul Westhead as coach, then Pat Riley, then Phil Jackson, then Phil Jackson again.
Buss was the constant over three decades. He made the Lakers glamorous, bringing in the Laker Girls to dance in front of A-list celebrities, turning the Lakers into the entertainment industry's entertainment. He never forgot that the product came first, so he steadily reinvested the proceeds into the payroll.
He signed Magic to a 25-year, $25 million contract back when that was considered an outlandish sum. He spent $121 million for Shaquille O'Neal in 1996. This season's team has a $100 million payroll.
In 2002, when the Lakers were en route to their third consecutive championship, there was concern they wouldn't have a clear shot at a fourth because Buss wanted to slash payroll and get the team below the luxury tax threshold.
Then they beat the Nets in the Finals, and at a victory party afterward a giddy Buss came up to me and said, "I've got a secret for you: We're going way over the tax! I love winning!"
(The Lakers spent $9.75 million in luxury tax fees the next season, but lost in the second round of the playoffs.)
That exchange took place at Mickey Mantle's in New York City. In fact, most of my face-to-face interactions with Buss were at night, in crowded places with loud music. Covering the Lakers meant that excursions to the L.A. hotspots constituted research, because of the likelihood Buss might be there and willing to talk about his ball club.
The conversations weren't for publication, but they did provide insight. During an early-spring night in 2004, at a spot called Bliss, Buss complained that Phil Jackson's triangle offense "had some cobwebs in it," a clear sign that the boss who preferred his ball up-tempo would not bring back the coach who had won nine of the previous 14 championships at that time.
Another night, after the breakup of Shaq and Kobe, Buss confided that it was inevitable, that he knew if he kept one of the two bickering superstars the other one would go. We all knew that was the case, but the official spin was always that it was just a business decision.
It might have meant one fewer banner in the short term, but Bryant certainly was the better long-term play, as he was the NBA Finals Most Valuable Player in 2009 and 2010 and continues to sell out Staples Center to this day. We wouldn't even know the name Jerry Buss if he had not been such a businessman with great vision.
But he wouldn't be the same Jerry Buss if he didn't have so much fun along the way.
ESPN.com senior writer since 2007
Around The Horn panelist
Formerly at Los Angeles Times