AN UNPARALLELED ERA OF SUCCESS

By Ramona Shelburne
ESPNLA.com
Archive
There was a time when I honestly thought Pete Carroll could easily be elected mayor of Los Angeles. His Q rating, as they say in the business, was off the charts. He was, simply, just very cool. And so it was with heavy hearts, not anger, that USC fans said goodbye to him this past January as he left for the NFL.
Nothing that happened afterward was cool at all, of course. The NCAA didn't just sanction USC's football team for transgressions committed during Carroll's tenure; they made sure everyone knew that they didn't like USC or its blithe attitude toward compliance. But if USC's fans were (or still are) angry, that feeling is focused on disgraced Heisman winner Reggie Bush and displaced athletic director Mike Garrett. Neither man had ever been as popular as Carroll, and both seemed more culpable for what had gone wrong than Carroll did.
Even during his Heisman Trophy-winning season in 2005, it was Bush's talent -- not his personality -- that earned him fans. Then he departed early for the NFL and all the toxic baggage he'd left behind started opening up on the tarmac. Garrett, on the other hand, was never really what anyone would call popular or well-liked; boosters would ask him to smile more and Garrett shrugged. He was prickly and tough-minded and everyone else had to deal with it.
There are a lot of reasons the scandal has stuck more to Bush and Garrett than it has to Carroll. But I think the core reason is pretty simple: People still like Pete. I suspect USC fans have come to feel for Carroll the way Miami fans eventually felt about Jimmy Johnson: disappointed, not disgusted. Carroll led USC on an unprecedented run of success and he did it with a coolness and a swagger not seen in these parts since Magic Johnson. Though he is gone, and his record has been sullied, the good times he brought to USC are not soon forgotten.
CAPTAIN CARROLL ABANDONED SHIP

By Arash Markazi
ESPNLA.com
Archive
Perhaps the only thing more important than timing for a public figure is perception, and when it comes to Pete Carroll's departure from USC, his luck on both fronts could not have been worse. Carroll suddenly bolted USC for the Seattle Seahawks last year on the heels of his most difficult season since 2001 (trading in seven straight BCS bowls for an Emerald Bowl berth) and in the midst of an NCAA investigation. Six months after he left, the NCAA put USC on a four-year probation. The NCAA not only cited the improper benefits Reggie Bush took, but also the lack of intuitional control within the program.
Now, you could certainly argue that Carroll didn't know everything Bush and his family were doing, but there seems to be little question that Carroll and others turned a blind eye to what was going on within a program spiraling out of control. To put it simply, USC should have done a better job in terms of compliance and monitoring players. No matter how many times Carroll says he didn't flee USC to avoid the sanctions or save himself from a sinking ship, that will always be the perception surrounding him. It would be the same for anyone who bolted a program being investigated just before it was hit with severe sanctions. Carroll's legacy will always have an asterisk next to it now (his record certainly does). Bush's Heisman Trophy and his retired jersey have already been removed from Heritage Hall. Next up could be the 2004 BCS national championship trophy, which commemorates a win USC has already vacated. With each returned trophy and vacated win, Carroll's legacy at USC continues to take a hit, and it will be at least four years -- the length of USC's probation -- before it can begin to be repaired.
You've heard our takes; now give us yours. DISCUSS
LISTEN LIVE!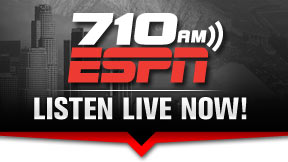 Want to sound off on today's Hot Button topic? Give us a call at 877.710.ESPN. Listen Live »