GRIFFIN HAS CLIPPERS POISED FOR ERA OF SUCCESS

By Arash Markazi
ESPNLA.com
Archive
We couldn't just let the Clippers fans bask in the glory of Blake Griffin for half a season, could we? We couldn't just sit back and marvel as one of the most exciting rookies in NBA history did the impossible -- make the sub-.500 Clippers relevant in Los Angeles while the Lakers drove for a three-peat. We had to immediately look at the kid's contract to determine when we could break the poor soul out of Donald Sterling's prison and show him to the salvation that is the Lakers.
Sorry, unlike many of the front-runners who make up this sports town, Griffin isn't leaving the Clippers simply to join the most popular team. Trust me; the Lakers will cease becoming the most popular team in LA the day they stop competing for championships. Just ask USC football, UCLA basketball and Dodgers players about this city's fickle ways depending on your place in the standings.
Griffin (21 years old) is on the ground floor of building something special in Los Angeles with Eric Gordon (22 years old). It might not be Kevin Durant-Russell Westbrook special just yet, but it's pretty darn close. If the Lakers look old at times this season, imagine how they'll look in four years when Griffin and Gordon are hitting the prime of their careers. Griffin has never taken the easy way out when it comes to basketball, and he's not about to do it when his contract is up. In four years, if the tandem of Griffin and Gordon continues to improve, we might be asking what Laker would look good in a Clippers uniform instead of the other way around.
HISTORY POINTS TO A PURPLE AND GOLD FUTURE

By Ramona Shelburne
ESPNLA.com
Archive
Attempting to predict Blake Griffin's future is like trying to throw a lasso around a streaking comet. Griffin has already so far exceeded anyone's expectations for his rookie year that it's foolish and probably impossible to guess where his ceiling is or even where he'll be in four years. That said, one thing has already become very clear in the half season we've had to get to know him: Blake Griffin hates losing. Not dislikes or disapproves, hates. I've seen him grab the basketball at the end of a loss and look as though he's about to crush it with his bare hands. I'm not sure what he does with the mouth guards he basically chomps into little pieces after losses, but they definitely aren't serviceable again.
As good as the Clippers have looked recently, it's hard to imagine them winning as many games and championships as the Lakers will in the next four years. Eventually Griffin will tire of playing on an "upstart" team that has historically been unwilling to go over the salary cap to acquire the depth or supporting cast it needs to win a championship. By then, Kobe Bryant will be in the last years of his career, chasing the legends and career achievements of Michael Jordan, Bill Russell and Kareem Abdul-Jabbar. After four years of admiring Griffin across the hallway, Bryant will recruit him to the Lakers for his "Last Stand," then pass the torch -- and the keys to the city -- to Griffin.
You've heard our takes; now give us yours. DISCUSS
LISTEN LIVE!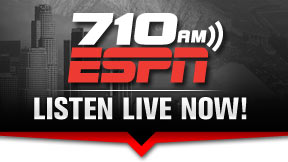 Want to sound off on today's Hot Button topic? Give us a call at 877.710.ESPN. Listen Live »