KOBE'S APPROVAL IS ALL THAT MATTERS

By Ramona Shelburne
ESPNLA.com
Archive
There is really only one person I need to hear from on whether this trade idea is a good one, and it isn't Mitch Kupchak, Carmelo Anthony or Andrew Bynum. No, the only voice on this that matters is Kobe Bryant's, and I suspect he's already given his tacit approval if talks with Denver have progressed at all.
The Lakers revolve around Bryant. If he feels they can orbit two moons, I have no reason to doubt him because his motives would be entirely clear: wanting to win another ring. If anything, it would make me respect him more.
There are few things worse than losing in the NBA Finals. Losing in Phil Jackson's last year, with a roster as loaded as the Lakers' is, would be one of them. Bryant said publicly a few weeks ago that he would do whatever it takes to send Jackson out on top. This trade would prove that.
How would Anthony fit into the Lakers' rotation? Could he and Bryant coexist? Why would the Lakers give up on Bynum so early in his career, when he's shown so much promise? Who would play center if Bynum left?
All these questions are important and are the reason Kupchak probably isn't sleeping too well these days.
But the only voice that really matters on this is Kobe's. If he signs off, we should take him at his word.
You've heard our takes; now give us yours. DISCUSS
BYNUM POSITIONS LAKERS TO WIN NOW

By Arash Markazi
ESPNLA.com
Archive
Discussions of an Andrew Bynum-for-Carmelo Anthony trade already have Lakers fans dreaming of wearing their new Lakers No. 15 jersey with "Anthony" on the back. This would be the kind of big-splash trade they've been waiting for all season. This is the kind of superstar talent that could inject "new life" into the team, as Magic Johnson said last week.
The problem is, while the trade might make long-term sense if Anthony signs a long-term deal and eventually replaces Kobe Bryant as the team's leader, it makes no sense in the short term. In fact, it probably would kill any chance the Lakers had of winning a title this season.
Of all the things on the Lakers' wish list to improve the team this season, an offensive-minded small forward who plays no defense and hardly passes isn't one of them. Yes, Anthony dropped 50 points Monday against the Rockets in Denver, but the Nuggets lost the game and Anthony didn't record a single assist. There is no doubt Anthony is one of the best pure scorers in the league, but the Lakers have plenty of guys who can score. If the Lakers are going to beat the likes of the Spurs and Celtics in the playoffs, they're going to need size and the inside presence the 7-foot Bynum gives them.
The paranoia surrounding the Lakers whenever they struggle is fascinating. The Lakers went 57-25 last season en route to winning the second of back-to-back titles and went 57-25 in 2007-08 when they went to the NBA Finals. Even when the Lakers made the Finals in 2001, 2002 and 2004 (winning in '01 and '02), they never won more than 58 games.
This season's team is on pace to win 57 or 58 games and has proved it can win when it counts in the postseason, yet Lakers legends and fans alike are clamoring for them to make a trade, any trade. A blockbuster trade for Anthony might increase jersey sales at Staples Center but would seriously diminish the Lakers' chances of winning a championship this season.
LISTEN LIVE!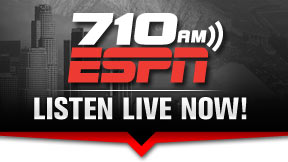 Want to sound off on today's Hot Button topic? Give us a call at 877.710.ESPN. Listen Live »