KOBE'S FEARLESSNESS PUTS HIM ABOVE THE REST.

By Ramona Shelburne
ESPNLA.com
Archive
There are a thousand reasons why Kobe Bryant is regarded as one of the best "closers" in the NBA. His preparation, his confidence, his athleticism. But the only thing that really matters, the one thing that separates him from other elite stars who have a knack for rising to the late-game occasion is his fearlessness.
To quote Eminem, he's not afraid. Of missing. Of the criticism that will follow if he takes a bad shot or forces one up. Of losing. He simply believes, ruthlessly, in his abilities and that he is the right person, the only person, who should be taking that last shot.
The only other player on the Lakers with even a small amount of that DNA is Derek Fisher. Which is a big reason he and Bryant are five-time champions, and longtime friends.
I've read all the articles breaking down Bryant's "real" or "true" statistics in crunch time, which argue that he's actually not as clutch as his reputation would indicate. But that's not really what we're discussing here, right?
We're talking who we'd want taking that last shot, not math or statistics. I want the guy who is not only unafraid of the moment but who lives for those moments. That's Kobe.
With all due respect to Dirk Nowitzki, and really, everybody else, I don't think anyone in the league right now thrives off pressure as Bryant does. Does he miss sometimes? Yes. Take a bad shot when he'd be better off passing to an open teammate? All the time.
But ask yourself one question. Even when he takes a bad shot. Even when he misses, aren't you glad he's the one shooting it?
You've heard our takes; now give us yours. DISCUSS
STATS DON'T LIE. DIRK IS THE BETTER CLOSER.

By Tim MacMahon
ESPNDallas.com
Archive
Believe it or not, Kobe Bryant shows human tendencies during crunch time. He occasionally misses shots. OK, he misses a lot of shots, as TrueHoop's Henry Abbott painstakingly detailed earlier this year while debunking the myth of Kobe's clutch invincibility.
Dirk Nowitzki isn't a flawless performer under pressure. He's just more efficient than Bryant.
In fact, no player who has attempted at least 50 potential game-winning or tying shots in the final 24 seconds of games over the last 15 years has been more efficient than Nowitzki. Dirk has drilled 26 of 67 such shots, according to ESPN Stats & Information. That's a .388 shooting percentage, well above the league average of .297.
It also compares favorably to Kobe, who has hit 37 of 117 shots (.316) in those situations.
Using 82games.com's definition of clutch, Kobe ranks second in the NBA over the last four seasons, with 51.8 points per 48 minutes. Dirk is third (43.7) and shoots almost a full percentage point better.
That's especially impressive for a guy who admittedly isn't a natural-born closer, preferred to defer to Michael Finley and Steve Nash while serving as a 7-foot floor spacer early in his career, who had to develop the confidence to carry his team during crunch time.
"Now, I feel comfortable touching the ball in the end," Nowitzki said. "I love having the ball in my hands at the end of the game. That's what this game is all about."
The Mavs would be fine if that's what this series is all about. All due respect to Kobe, but Dallas wouldn't be scared if games come down to clutch duels between future Hall of Famers.
"He wants the responsibility of winning games," Dallas coach Rick Carlisle said of Nowitzki. "I've been around some of the very best. I played with [Larry] Bird for three years when he was the best player on the planet. I was with Reggie Miller for several years as an assistant coach and head coach. He was a guy that embraced that kind of responsibility. And Dirk's the same way.
"I've been fortunate to be around three of the best. And Bryant's obviously there, too."
Yes, Kobe is. Just a bit below Nowitzki, according to the numbers.
You've heard our takes; now give us yours. DISCUSS
LISTEN LIVE!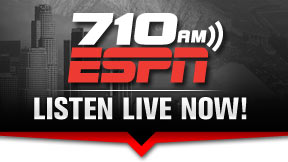 Want to sound off on today's Hot Button topic in L.A.? Call us at 877.710.ESPN. Listen Live »
LISTEN LIVE!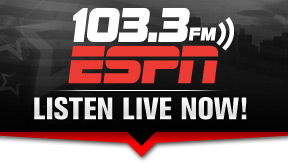 Want to sound off on today's Hot Button topic in Dallas? Call us at 214.787.1033. Listen Live »
BabersGreen The Green Effect
@royceyoung he is not a dirty player.. He is use to doing Karate and plays with his body...you all have NO clue how Dray really is!
about an hour ago

SherwoodStrauss Ethan Strauss
Curry asked about Durant's comment regarding his defense: "I got a great teammate that's obviously a better... https://t.co/1Pbl6Opd7v
about 4 hours ago

royceyoung Royce Young
Donovan: "The difference in the game to me was the fact they went to the free throw line 34 times."
about 5 hours ago

Jeff_Caplan Jeff Caplan
Who thinks that??? https://t.co/N9GCypyvfk
about 6 hours ago

espn_macmahon Tim MacMahon
@tomhaberstroh Weird. I posted that like 3 hours ago.
about 6 hours ago

espn_macmahon Tim MacMahon
Yep, Draymond Green had nothing to do with Golden State winning title last year or 73 games this season. Good point. https://t.co/FCWfpSdVqS
about 7 hours ago

JJT_ESPNDallas Jean-Jacques Taylor
yo, who do you think sent him bro? #SkyHigh #CalssOf85 #SoulPatrol #TraditionNeverGraduates https://t.co/fv7l5sXPdv
about 7 hours ago

jasonrmcintyre Jason McIntyre
He took every big man off the dribble with ease this season, drives, step backs, all that. He can't do that now. https://t.co/ahsK1bs9RE
about 9 hours ago

espn_macmahon Tim MacMahon
Steph Curry hits his last five launches from near the halfcourt logo before Game 5. https://t.co/oM5oSNgGHv
about 9 hours ago

JJT_ESPNDallas Jean-Jacques Taylor
Profar, who's expected 2 be promoted when Odor starts suspension Fri, is hitting .284 w.5HR & 26 RBI. 16 BB & 26 K. .782 OPS
about 9 hours ago

JJT_ESPNDallas Jean-Jacques Taylor
Odor gets 7G suspension instead of 8G after appeal, but he has free BBQ for life https://t.co/2ZRVDQUMg2
about 9 hours ago

espn_macmahon Tim MacMahon
What happens to the Mavs if Mark Cuban becomes VP? He told @ESPNAndyKatz: https://t.co/vbzccpykKK https://t.co/nzv8irEsCh
about 10 hours ago

ItsSoccerVines Soccer Vines
Messi Free Kick Challenge 😳🔥🙌🏽 https://t.co/6EiwhXLRPD
about 11 hours ago

MikeLeslieWFAA Mike Leslie
Art Briles daughter, Staley Lebby, posts her thoughts on facebook about her father's firing at #Baylor. https://t.co/TbCq4iEGWS
about 11 hours ago

pinepaula Paula Lavigne
Our original story from earlier this year: OTL: Women say Baylor ignored sexual assaults https://t.co/qwBvzG7ppq
about 11 hours ago

JJT_ESPNDallas Jean-Jacques Taylor
Well.... https://t.co/2VvgX3vyxx
about 13 hours ago

JJT_ESPNDallas Jean-Jacques Taylor
😂😂😂😂😂😂😂😂😂😂😂😂 https://t.co/1rcySq2eFa
about 13 hours ago

ESPNStatsInfo ESPN Stats & Info
The Thunder have a small lineup of their own, and it has been the team's best combination against the Warriors https://t.co/Ez1Us7WFh2
about 13 hours ago

JJT_ESPNDallas Jean-Jacques Taylor
Admit it, Russell Westbrook = Dez Bryant https://t.co/6wjoiOJ8hE
about 14 hours ago

ReidLaymance Reid Laymance
Baylor football scandal timeline https://t.co/3PhG7LzTcn via @houstonchron
about 15 hours ago