KAREEM SHOULDN'T HAVE TO ASK. IT SHOULD'VE ALREADY BEEN DONE.

By Arash Markazi
ESPNLA.com
Archive
No one should ever ask for a statue. Unlike being inducted into the hall of fame or having your jersey retired, a statue isn't simply earned by a player for reaching a certain level in your career; it is a rare gift from a franchise to a player. As with any present or gift, no one should ever demand one or claim they deserve one.
That is really the only problem with Kareem Abdul-Jabbar's on-going media tour where he claims the Lakers have slighted him by not building him a statue. He is right, but he shouldn't be the one saying it. He should leave that up to his teammates, coaches or reporters.
The simple fact is Abdul-Jabbar is long overdue for having a statue erected outside of Staples Center in his honor. No one complained about statues at Staples Center when it was just Magic Johnson and Wayne Gretzky. Both players took the Lakers and Kings to new heights and made it possible for there to be a Staples Center.
That all changed when Oscar De La Hoya, Chick Hearn and most recently Jerry West received statues. It can certainly be argued that Abdul-Jabbar, the NBA's all-time leading scorer and a six-time NBA MVP, deserved a statue before all of them and shouldn't be told he'll get one someday down the line.
There is no doubt Abdul-Jabbar deserves a statue and should have one by now; he just shouldn't be the one reminding us and the Lakers of that fact.
You've heard our takes; now give us yours. DISCUSS
KAREEM'S INSECURITIES WILL UNDERMINE HIS LEGACY

By Ramona Shelburne
ESPNLA.com
Archive
This has never been about a statue. It's also never been about Magic Johnson or Jerry West or Chick Hearn, the three Lakers legends who ascended to the makeshift Mt. Rushmore outside Staples Center before Kareem.
This is, and will always be, about Kareem. A shy, intelligent but guarded man who has never felt like he belonged and always resented anyone who added to his isolation. He has been at ease and happy in only two roles in his lifetime: basketball player and intellectual. Everything else has been uncomfortable either for Kareem or the general public trying to understand where he's coming from.
His emotion on this issue is easy to understand. His way of expressing it has been baffling.
He was always going to get one someday. And yes, he was always going to get one after Magic, Chick and West. I always thought he recognized his place in Lakers history. Magic and Chick were beloved, West and Kareem were admired. West got his statue before Kareem because of his contributions as a general manager, and as a nod to the organizations long history.
Kareem was next in line and still is. But after this, what should've been a peak life experience and honor will feel forced and uncomfortable.
It's sad to me that such a misunderstood but fascinating man allowed his insecurities to undermine his legacy.
LISTEN LIVE!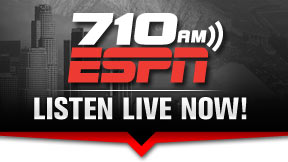 Want to sound off on today's Hot Button topic? Give us a call at 877.710.ESPN. Listen Live »