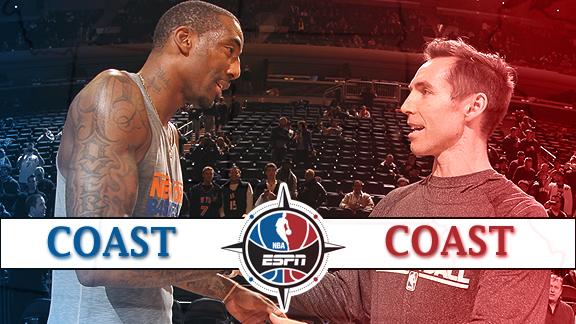 Key to D'Antoni's system

By Ramona Shelburne
ESPN.com
Archive
Steve Nash is 38 years old, with a broken leg, a haircut that belongs at a hipster concert and not a lot of tread left on those tires. Nothing about him physically looks like a savior, but that's exactly what he just might be for the Lakers once he finally comes back.
He really is that important to what Mike D'Antoni wants the Lakers to do. He really is that smart and that good and that selfless. The only comparison I can make is the effect Peyton Manning had with the Indianapolis Colts last year. Without him, the Colts were the worst team in the league. With the second coming of him (Andrew Luck), they're back to being a playoff team. Same thing goes for the Denver Broncos, who look like a Super Bowl contender with Manning under center.
Why is Nash so important? Because when he's doing what he does, everyone else goes back to the spots they should be in. Kobe Bryant gives up the ball and goes back to being a scorer. Dwight Howard can thrive in pick-and-roll sets. Pau Gasol will be open all day while defenders choose whom to leave when Nash penetrates and Howard rolls. In a way, he puts the whole universe back in order.
It's why D'Antoni was so excited when he took the Lakers job and why it's been so hard for him to see his beautiful offensive principles go by the wayside without Nash at the helm.
Can't cure all that's wrong

By Arash Markazi
ESPN.com
Archive
Mike D'Antoni continues to point to the return of Steve Nash as the moment he thinks the Lakers will turn a corner and his much-maligned system will not be so, well, maligned.
I happen to agree with D'Antoni. I think the Lakers' offense can't run efficiently without Nash. In fact, it can't run at all with Chris Duhon and Darius Morris at the helm. It would be like Dan Orlovsky and Curtis Painter trying to quarterback the Indianapolis Colts without Manning. We all saw how that turned out.
The common belief is that Nash will help the offense but he won't add much to the defense. The fact is Nash's presence and an improved offense will do wonders for the Lakers' defense. The Lakers' defense is terrible largely because the team turns the ball over 16 times per game, second worst in the league, and is getting killed in transition.
With Nash controlling the ball that number will drop to about 10-12 turnovers per game and that alone will do wonders for the Lakers.
Nash's return alone will not cure all that ails the Lakers. He is, after all, recovering from a major injury and will turn 39 in two months. His presence, however, will change the Lakers drastically and once again make them a championship contender.