Jon Weisman of ESPNLosAngeles.com's Dodger Thoughts blog
offers a player-by-player look at some of the key members,
best stories and biggest disappointments of the Dodgers' season.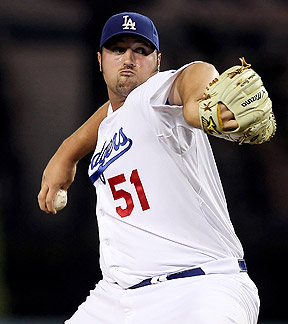 Getty Images
51
PITCHER
WT: 295 lbs. HT: 6-4
BATS: Right THROWS: Right
BORN: June 16, 1984
BIRTHPLACE: Augusta, Ga.


When he took the mound to protect a four-run ninth-inning lead against the Yankees on June 27, he hadn't allowed four earned runs all year. But 48 pitches later, his season began to evaporate. ... Highlight: Saved three games with three perfect innings early on vs. San Diego. ... Lowlight: Allowed four runs in the ninth at Philadelphia on Aug. 12 as the Phillies rallied from a 9-2 deficit. ... Sidelight: His strikeout-walk ratio was 7.86 before the All-Star break, 0.86 after.
011
| SPLITS | G | IP | BB | SO | W | L | SV | WHIP | ERA |
| --- | --- | --- | --- | --- | --- | --- | --- | --- | --- |
| Career | 620 | 611.2 | 242 | 697 | 39 | 35 | 118 | 1.23 | 3.19 |