Jon Weisman of ESPNLosAngeles.com's Dodger Thoughts blog
offers a player-by-player look at some of the key members,
best stories and biggest disappointments of the Dodgers' season.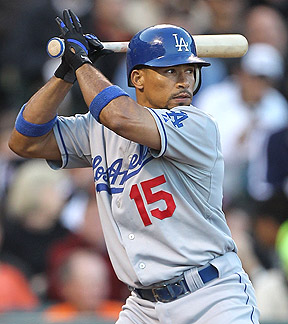 Getty Images
15
SHORTSTOP
WT: 195 lbs. HT: 5-8
BATS: Switch THROWS: Right
BORN: Oct. 24, 1977
BIRTHPLACE: Loma de Cabrera, D.R.


Although he missed 65 games, you could make a case that Furcal was the Dodgers' top position player. If only he could find a way to stay in the lineup. ... Highlight: A week after going 5-for-6 against the Reds on June 15, Furcal kicked off a June 26-July 8 hot streak: 25-for-50 with 4 walks, 4 steals, 4 doubles and 4 homers. ... Lowlight: In the final 58 games, Furcal started 20 and reached base 28 times. ... Sidelight: Furcal stole 22 bases in 26 attempts in 97 games.
005
| SPLITS | G | AB | R | H | HR | RBI | AVG | SLG | OPS |
| --- | --- | --- | --- | --- | --- | --- | --- | --- | --- |
| Career | 1614 | 6477 | 1063 | 1817 | 113 | 587 | .281 | .402 | .748 |