Commentary
Setting the table for a Christmas feast
Updated:
December 25, 2013, 9:55 AM ET
By
J.A. Adande
| ESPN.com
O come, all ye faithful ...
Because let's face it, you've got to be a devoted NBA fan to watch all of this year's Christmas Day lineup.
For the first time since 2007, there won't be a conference leader playing on Christmas. Four of the 10 teams in action would be out of the playoffs if the season ended today. It would have been five if the season had ended Sunday, but the Golden State Warriors' victory over the Denver Nuggets on Monday night enabled Golden State to climb into the Western Conference's eighth spot. The Chicago Bulls don't have Derrick Rose; the Los Angeles Lakers don't have Kobe Bryant; the Brooklyn Nets don't have Brook Lopez.
NBA CHRISTMAS DAY ON ESPN/ABC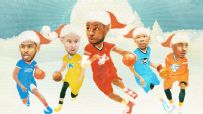 The league's best come out to play on Christmas Day, and ESPN.com has you covered for all five holiday showdowns.
Thunder-Knicks: 2:30 ET* | Video

Rockets-Spurs: 8 ET | Video


Clips-Warriors: 10:30 ET | Video


* On ABC
---
• 5-on-5: Five Christmas Day Q's
• Adande: Five-game holiday feast
• Verrier: Top 10 things to know
• Windhorst: Blue Christmas in N.Y.
• No Indy: Pacers home for Christmas
• TrueHoop TV: Secret Santa gifts

Yet I still believe that someone can save the day and bring joy to the basketball world.
His name is Nick Young.
Young has scored more points this season than Dwyane Wade, Joe Johnson, Pau Gasol, Carlos Boozer and Chris Bosh. He has his Lakers teammates and coach Mike D'Antoni using various forms of "swag" as an adjective, verb and proper noun. He has made things fun for the Lakers in the midst of a season that easily could have made a right turn into Depressing Drive.
He could do the same thing on a national stage on Christmas. And there's always the chance he could do something like this.
Young is just what this day needs.
The Miami Heat are grumbling about the absurdity that the defending champions have to travel across the country to play on Christmas, and LeBron James worries about the effects the special sleeved jerseys will have on his team's shooters. They're both legitimate complaints. They also sound like the words of those who have been making annual appearances on Christmas. The novelty wears off and begins to feel like more of an obligation than a privilege.
That's not the case with Young.
"It's my first time playing on Christmas Day, so I'm going to be pumped," he told ESPNLA.com's Dave McMenamin. "We just got to have fun and enjoy it. … Christmas Day should be fun."
It should be, right?
There's still plenty to like if you choose to be optimistic. How about the plethora of point guards, including Stephen Curry, Tony Parker, Chris Paul, Deron Williams and Russell Westbrook.
Maybe we should add the Oklahoma City Thunder's Reggie Jackson to that list. He has been outstanding lately, averaging 14 points a game in December and giving the Thunder exactly what they need off the bench. The points are coming easily to him now, and if he plays like this in the playoffs, OKC could go to the NBA Finals.
I'd love to see Kevin Durant steal the spotlight from Jackson, though. I want to see Durant take advantage of the Madison Square Garden stage and go for 50. Durant gets it done every night, but it feels like it has been a while since he had one of those games that people talk about for days.
[+] Enlarge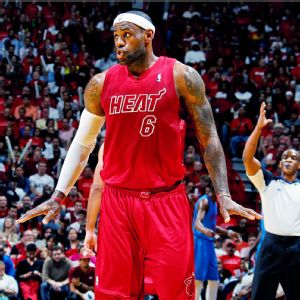 Issac Baldizon/NBAE/Getty ImagesLeBron James is taking the Christmas Day stage for the eighth straight season.
The fourth game of the day, the Houston Rockets at San Antonio Spurs, feels like it has the best chance of foretelling a playoff series. (It actually would be the matchup if the playoffs started today, with the Spurs as the No. 3 seed and the Rockets as the No. 6 seed.)
I'd love to see that series because a Spurs victory would reinforce a lost value in the NBA: continuity.
Not only has San Antonio's core trio of Tim Duncan, Tony Parker and Manu Ginobili been together for more than a decade, even newer additions such as Danny Green and Tiago Splitter are already in their fourth season with the Spurs. The Rockets, on the other hand, have only two players who were on the team as recently as 2011-12: Chandler Parsons and Greg Smith. I think it's appropriate that if the Rockets want to realize their potential to be among the best teams in the league, they'll first have to battle San Antonio to be the best team in the state.
Those same regional-rivalry rules apply to the Los Angeles Clippers and Warriors, the fifth matchup of the day and the one that promises to be the best. Only one of their past four games going back to last season has been decided by single digits, yet these have been some of the more memorable games because there's always some bickering between these two teams. Their Halloween matchup, which the Clippers won 126-115, featured a shoving match between Andrew Bogut and DeAndre Jordan and also a serious stare-down from Warriors coach Mark Jackson after Blake Griffin bumped him on the sideline.
The two teams have combined for at least 200 points in every matchup going back to last season.
One way or another, they'll provide fireworks. That's all we can hope from this day of basketball: a Christmas that resembles the Fourth of July.
ESPN.com senior writer since 2007
Around The Horn panelist
Formerly at Los Angeles Times